Work continues to find source of new poultry flu outbreak
29c50ed2-f02c-4f5a-aaf3-40bbc39397fa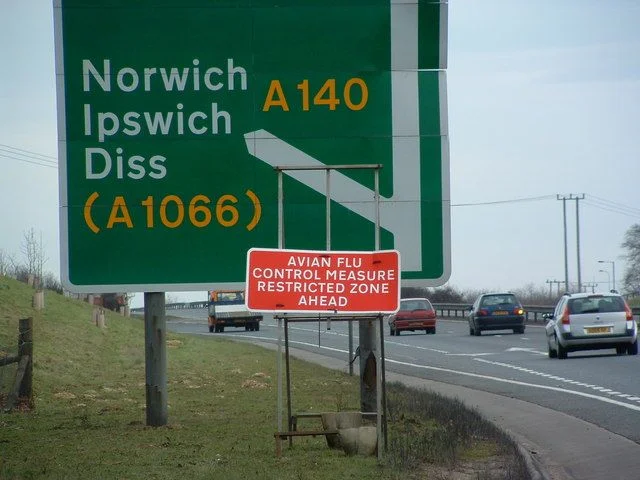 With a case of poultry flu confirmed at an East Yorkshire duck farm, following outbreaks in Germany and The Netherlands, work continues to locate its source.
Though the exact form of the virus – popularly known as 'bird flu' – has yet to be confirmed from tests, the Department for Environment, Food and Rural Affairs (DEFRA) has stated that the H5N1 strain, which has a 60 per cent mortality rate in infected humans according to World Health Organisation figures, is not involved.
The single British case – in factory-farmed ducks at Nafferton, East Yorkshire – is strongly suspected to be derived from outbreaks of the similar H5N8 strain in north-east Germany and Hekendorp, The Netherlands, earlier this month, though health authorities point out that there has never been a case of human poultry flu in western Europe and that the current risk to the public is negligible.
Though no connection has yet been made, H5N8 was
detected in farmed poultry in South Korea earlier this year
and millions of birds had to be destroyed, while the virus was later found to have transferred to wild Baikal Teal; the virus has also been found in China and Japan recently, and was found in New York last year. South Korean authorities were quick to blame wild birds for the spread of the disease, but
UN scientists unequivocally state all known outbreaks have originated in domestic poultry
.
DEFRA is planning to cull all 6,000 domestic ducks held in the Nafferton poultry farm in an attempt to contain the disease. It is not thought that the farm has any contact with wild ducks, geese or swans, but this has not stopped unfounded speculation in the media that migrating wildfowl are the source of the outbreak.
Wild birds were initially widely blamed for the previous 2007 outbreak of H5N1 in Suffolk, until it was revealed that the true source of the virus was one of Bernard Matthews' factory farms at Ubbeston, near Halesworth; the company hosted regular imports of domestic Turkeys and associated products from Hungary, where there was an outbreak shortly prior to the Suffolk occurrence. There is
no empirical evidence of other links between wild birds and the disease
, and it is probable that the virus is passed from domestic fowl to wildfowl where they are allowed to mingle, rather than vice versa.
A six-mile exclusion zone has been instituted around the farm in question, though the farm's biosecurity is believed to be good. The National Farmers' Union has said that farmers need to continue good hygiene practices and regular health checks among their domestic birds. Dutch authorities have just banned the transport of poultry, and are rigorously following European Commission directives on containing the disease. Around 150,000 chickens were gassed at Hekendorp, and a six-mile exclusion zone is currently in place there. The Dutch and German cases have been shown to involve the H5N8 strain which, though highly contagious among ducks and poultry, is not yet known to be transmissible to humans.
Current fears are based in the hypothesis that a breakout mutated form of the virus may one day prove contractable between humans, as many of our lethal influenza and pox viruses have historically derived from our close habitation with domestic animals. So far, human deaths appear to have been caused by direct contact with the farmed birds rather than other people carrying the infection.
So far, DEFRA has denied any risk to public health or food safety, and its press office told
Birdwatch
yesterday that it "is investigating all possible causes of the outbreak". While a wild source is not impossible, the clear east-west passage of the current strain implies similar trans-Eurasian poultry transport methods as before, unless new evidence indicates otherwise.
Content continues after advertisements