Wild Justice challenges peatland burning laws
6b2fd385-555d-4605-ab5c-ea6591120a45
Wild Justice – a non-profit environmental organisation run by Chris Packham, Dr Ruth Tingay and Dr Mark Avery – has issued a legal challenge to DEFRA's new rules governing the burning of heather and grass on peatlands in England, claiming they are unlawful and unenforceable.
The group, represented by law firm Leigh Day, has applied for a judicial review of The Heather and Grass etc Burning (England) Regulations 2021. It argues that the rules are unenforceable, and also create a façade of effectiveness, preventing urgent and far-reaching legislation addressing climate change and biodiversity loss from being introduced. Wild Justice goes on to say that the regulations, introduced in May this year, need to be much stricter to ensure they can be enforced effectively.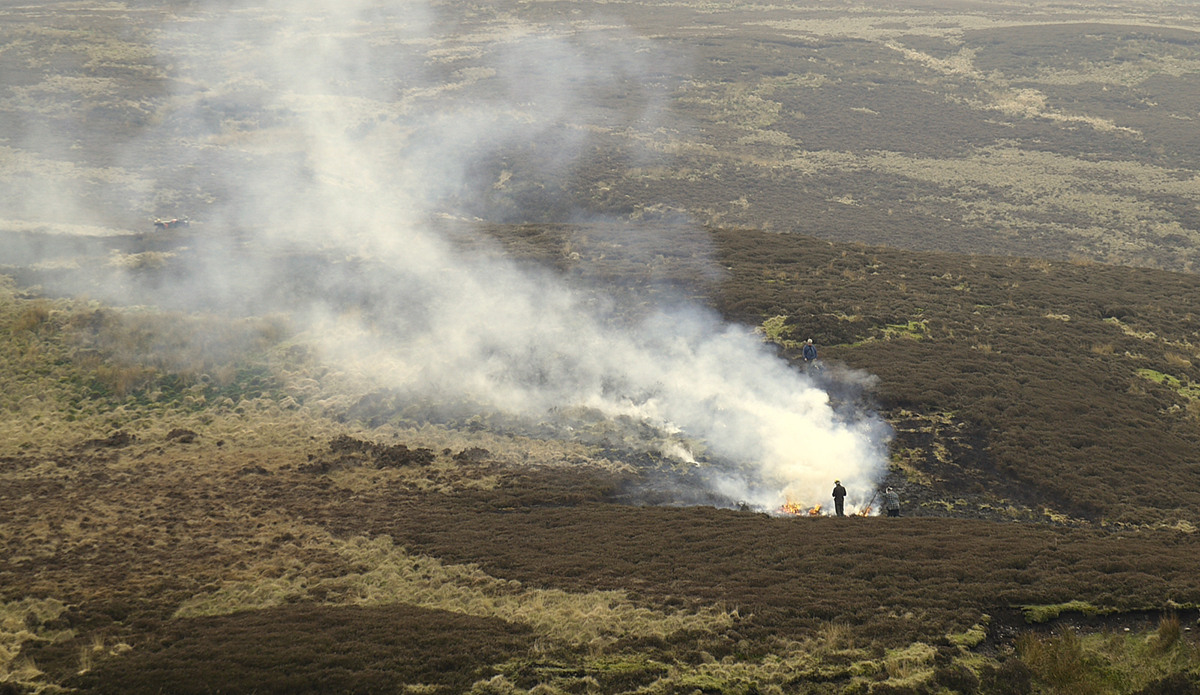 Burning old-growth heather on the UK's uplands blanket bogs damages peat soil, a unique and biodiverse habitat (Gary Rogers via Wikimedia Commons).
The UK's peatlands are wetland landscapes which store an estimated three billion tonnes of carbon. They have a unique biodiversity recognised as habitats of national and international significance. The UK's upland blanket bogs are a globally rare habitat. The UK Government has a responsibility to protect these environments under the Conservation and Species Regulations 2017, which require the restoration of the habitat to "favourable conservation status".
However, vegetation on upland peat soils is set alight at regular intervals to promote the growth of young heather shoots to feed Red Grouse for the shooting industry. The practice damages the habitat, reduces peat accumulation and releases around 260,000 tonnes of CO2 every year.
"There's a climate crisis and a biodiversity crisis, and this type of burning adds to both," Wild Justice said in a statement. "Instead of acting decisively, DEFRA is fiddling while the uplands burn."
The Burning Regulations 2021 are flawed in two significant ways, the organisation argues. They only prohibit the burning of heather, rough grass, bracken and gorse on peat deeper than 40 cm – but there is no map to identify where such peat exists and so no means to properly enforce the rules. They also only prevent the burning on Sites of Special Scientific Interest that are also designated as Special Areas of Conservation and Special Protection Areas, which amounts to a ban on just 40% of all blanket bog in England.
Furthermore, they fail to take appropriate steps to avoid deterioration of these habitats and the disturbance of those species that rely on them.
Leigh Day solicitor Carol Day added: "Our client strongly supports effective action by the Secretary of State to protect peatland, including through enforceable legislation regulating the burning of blanket bogs, given their crucial importance as a habitat and in sequestering carbon. But in falling so far short of what is needed, these regulations create a façade of effectiveness preventing real progress from being made. Wild Justice hopes that bringing this challenge, along with the call from the Climate Change Committee for urgent action, will prompt the government to plug the gaps in these regulations."