White-tailed Eagle reintroduction scheme begins in Spain
3600e200-ead4-496a-a351-c558343880d6
Nine White-tailed Eagles are being housed in a special acclimatisation enclosure in the Spanish region of Asturias, having arrived from Norway as part of a new reintroduction scheme.
White-tailed Eagle is one of eight species of bird on the List of Extinct Species in Spain, which means it qualifies for an approved reintroduction project. The scheme is being led by Spanish conservation group GREFA and follows the restoration of Bearded Vulture to Asturias.
The young eagles were taken from wild nests in Norway earlier this summer and arrived at Madrid airport on 29 June, where they were collected by the GREFA team and taken for the compulsary veterinary examinations. Norway, with its healthy White-tailed Eagle population, has been a key 'exporter' of youngsters for such schemes over the years, notably including the ongoing Irish project, as well the Scottish reintroductions between 1975 and 2012.
Much like birds from the current Isle of Wight scheme, the Spanish birds have been fitted with small GPS transmitters in order to monitor their movements over the coming weeks and months.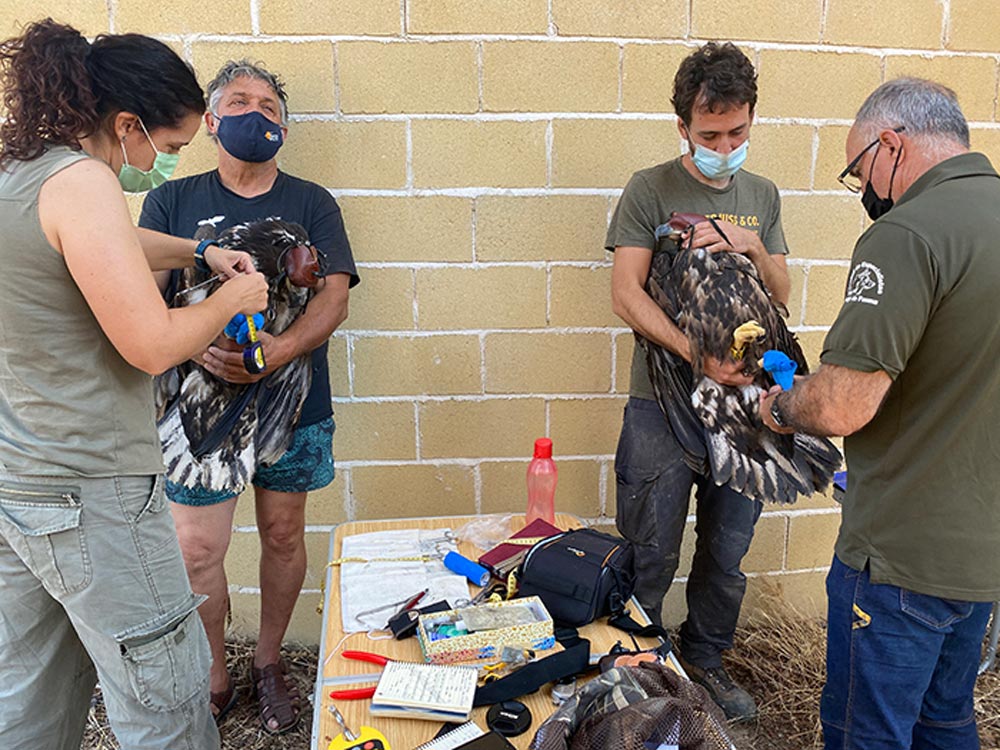 Two of the young White-tailed Eagles are fitted with GPS transmitters (GREFA).
The first two years of the project have been conceived as an experimental phase in which new reintroduction techniques will be tested. After this phase, an assessment will be made of the results obtained in relation to the adaptation and integration of the birds released into the wild. If the experimental phase records a positive outcome, the project will continue with the annual release of up to 20 White-tailed Eagles for at least five further years, in order to establish a future breeding population of the species in Spain.
Ernesto Carlos Álvarez Xusto, President of GREFA, said: "After more than 30 years longing for the return of White-tailed Eagle to Spain, we are facing a unique opportunity to generate positive dynamics in favour of the conservation and protection of the coasts, wetlands and forests where this majestic eagle lives, without forgetting how positive it can be for local economies to have such an emblematic and attractive species."
However, the project has caused considerable controversy among Spanish ornithologists and conservationists. Ornithological groups Mavea and Coordinadora Ecologista de Asturias said in a statement that "there is no observation, current or historical, of the presence of this species in Asturias", adding that therefore there is no solid base for such a reintroduction scheme to take place. Furthermore, it has been pointed out that threatened and declining residents of the region, such as Western Capercaillie, are being ignored at the expense of the project.