Wheelchair challenge for wildlife
3ec2d251-13fd-4d20-afae-663d67fac1c7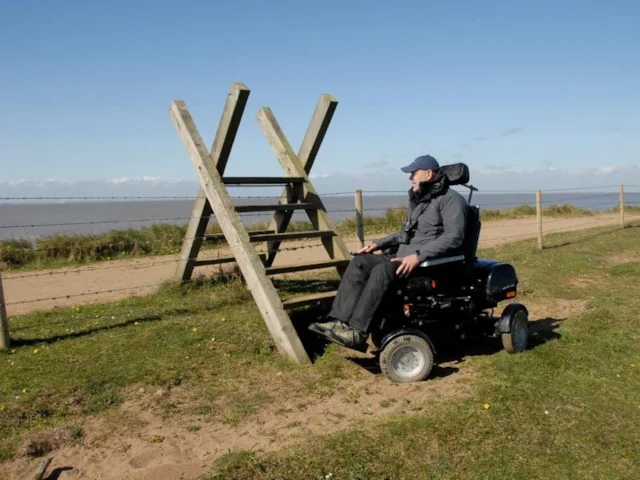 An inspirational Yorkshireman has set himself a challenge of covering over 200 miles in a wheelchair, to raise funds and awareness of accessibility in the countryside.
Roy Taylor, who works for the RSPB in the north of England, was diagnosed with Motor Neurone Disease in September last year. Although still able to walk just a few yards with the aid of a stick, he now relies totally on the use of a wheelchair for longer walks. His experiences have highlighted the issue of accessibility for people with mobility problems in the great outdoors.
He said: "Like many other people I love being outdoors and watching wildlife. It makes me feel alive. Yet, despite purchasing the best four-wheel-drive wheelchair on the market, many paths suitable for disabled people like myself are inaccessible due to stiles, kissing gates and other obstacles. Many paths I could access when walking are now out of bounds when in a wheelchair. It needn't be like this."
While unable to control what happens in the wider countryside, as he works for the RSPB Roy is in a position to influence what happens on the organisation's nature reserves. Over the next year, he will be carrying out an audit of the accessibility of all RSPB reserves in northern England and will draw up a list of actions for change – from installing wheelchair friendly access points to better views from hides.
To raise funds to transform the region's reserves, Roy will be taking on a coast-to-coast wheelchair challenge, from Southport to Hornsea. Starting on Saturday 24 May, he will cover 215 miles along the Trans-Pennine Trail, aiming to finish on Tuesday 3 June. "I might not be able to change anything out in the wider countryside, but I can ensure that the 20 superb RSPB nature reserves we have in northern England are exemplars of accessibility for people with disabilities, mobility problems and also for parents with prams," Roy said.
All of the money raised by the 'Wheelchair Challenge' will be spent directly on implementing the changes identified. Roy is also inviting other people to take on the challenge themselves, adding: "I'd love for people to join me, perhaps for a day or two or even just for a few hours or miles. It will be tough but it'll be a lot of fun."
To help Roy reach his goal, make a donation at
www.virginmoneygiving.com/roy215miles
or to find out how to take part in the challenge, contact him at
roy.taylor@rspb.org.uk
.