Wetland Bird Survey celebrates its platinum anniversary
3b77f191-ca89-4bc2-bb9c-bfd2956c21e1
The British Trust for Ornithology's (BTO) Wetland Bird Survey (WeBS), one of the longest-running citizen science surveys in the world, is celebrating its 70th anniversary.
As World Migratory Bird Day on Saturday 12 May draws near, the latest WeBS report, Waterbirds in the UK 2016-17, has been released, covering 110 waterbird populations across the UK. The country is of international importance for millions of migratory waterbirds which spend the winter here or pass through on their way to their breeding grounds to the north and east.
The survey began life as the National Wildfowl Counts in the winter of 1947-48 in response to apparent declines in the numbers of ducks and geese. The scheme has since expanded to include all wintering waterbirds and is now counted every month by 3,000 volunteers around the UK.
The latest findings show that habitat creation or climate change have helped species such as Little Egret, Avocet and Eurasian Bittern increase. Introduced species such as Canada Goose (up 12 per cent), Mandarin Duck (43 per cent) and Egyptian Goose (128 per cent) are also becoming more common.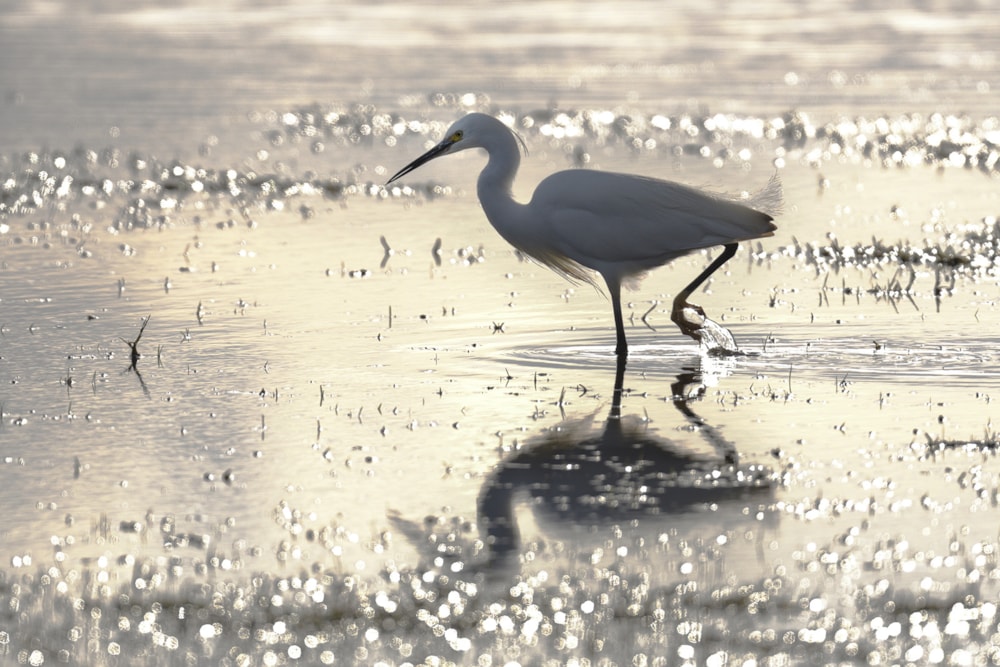 Little Egret is one of the winners, increasing massively in the UK over the past few decades (Nigel Deacon).
However, many wader species that rely on the UK's estuaries in winter are declining. Ringed Plovers are wintering in just half the numbers that were counted 25 years ago, while Eurasian Curlew counts are down by 21 per cent. There is a more mixed picture for duck species that use inland waterbodies. Over the past 25 years, Eurasian Teal has increased by 40 per cent and Northern Shoveler by 80 per cent, but the familiar Mallard has decreased by 38 per cent and Common Pochard by a huge 69 per cent.
Understanding the status of waterbird species is vital to help guide conservation action. Counts from WeBS have long been a cornerstone of UK policy and protection for wetland birds, from informing wetland management and wildfowling consents to identifying important areas for designation as protected sites.
The most important protected sites for birds in the UK are part of the Special Protection Area (SPA) network, and many such sites have been designated on the basis of the large numbers of waterbirds recorded there through WeBS surveys. A recent review found that more than a third of the UK's non-breeding waterbirds use the UK SPA network, particularly species that flock together at high densities in winter. As well as WeBS counts being used to inform site designation, the ongoing surveys are invaluable for monitoring how species are faring at these sites, giving an insight into how successful the protected network is.

Mallard has declined across the UK in the past 25 years (Neil Loverock).
Waterbird distributions are already adapting to climate change. Looking to the future, counts of these birds will be critical for assessing impacts of further changes in climate, habitat and conservation measures. This will only be possible due to the dedication of the 3,000 volunteer counters who go out in all weathers to monitor and record birds using UK wetlands, carrying on the 70-year-old tradition.
"Findings showed that during the winter of 2016-17 counts of migratory ducks and waders were slightly higher than we would have expected from recent trends," Teresa Frost, WeBS National Organiser at the BTO, said. "We think this was related to cold weather on the Continent encouraging some birds to move to the UK, where the weather was very mild. Even though climate change means some species are typically wintering further north-east in Europe than they used to, it shows the importance of our wetlands as a refuge in severe weather conditions."
Simon Wotton, Senior Conservation Scientist at the RSPB, commented: "Our wetlands are absolutely vital for millions of waterbirds every year, providing them with a much-needed home to get through the winter months. The designation and protection of these wetland areas around the UK is a key reason behind their survival, and allows us to monitor their numbers so we're best placed to put in conservation measures to help protect their long-term future."
Richard Hearn, Head of Monitoring at WWT, added: "The UK's long-term dataset on duck numbers is an amazing resource with which to track the different fortunes of individual species. The continued decline of Common Pochard is the greatest current concern and a conservation response is becoming increasingly important. Recent research has suggested that females are being impacted more than males, as there is now a greater percentage of males in the European population, but the ultimate causes remain unknown. Targeted research and changes to management practices for this huntable species are now needed. "