Welsh Golden Eagle 'consumed rat poison before death'
313898d7-b4e1-48ac-9b7c-7e7fa1f261d9
Rat poison may have contributed to the death of the only known Golden Eagle in Wales, a toxicology report has found.
The bird was discovered dead by a walker in the Abergwesyn Valley, Powys, in August last year. The toxicology report has concluded it had "high concentrations of rat poison in its liver". The Welsh Government said the accumulation of toxins did not appear to be deliberate.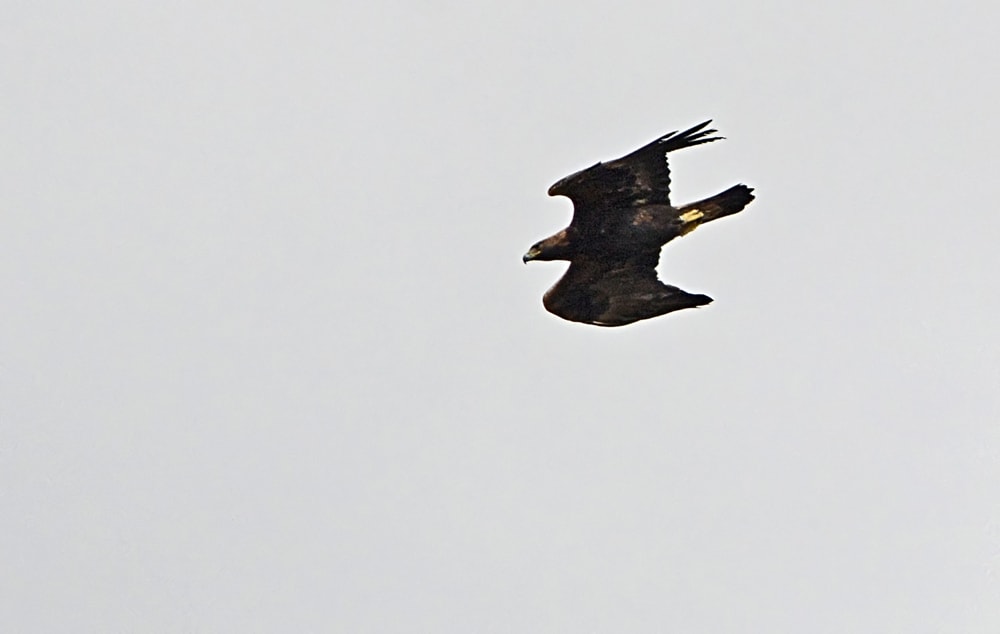 Wales's famous Golden Eagle, photographed in Ceredigion in February 2016 (Kev Joynes).
In a tweet from the Welsh Government's Department Environment and Rural Affairs, it said the findings "reinforced the need to follow correct practice" when using poisons. At the time of the bird's death BBC Springwatch presenter Iolo Williams said "Wales had lost one of its greatest characters". He had been tracking the movements of the originally captive bird in the remote valleys of the Cambrian Mountains for his series Iolo: The Last Wilderness of Wales, when it was found dead.
Although having escaped from captivity when it was three months old, the eagle had been living wild in Wales for more than a decade and was widely dubbed as 'Wales's last Golden Eagle'. The bird even had a dedicated Facebook fan page detailing sightings but it often went unseen for months at a time.
The Welsh Government said the amount of poison in the eagle's liver was "similar to those seen in other raptor species, such as Common Buzzards, and reinforce the need to follow correct practice when using rodenticides to avoid contaminating non-target species".