Waders in peril on the Yellow Sea
de2e2ace-e04e-4dc7-92f7-43951331f9e9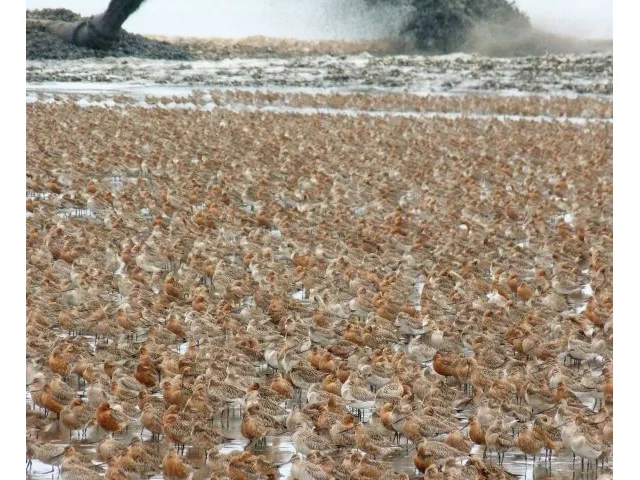 Reclamation of China's Yellow Sea coastline is causing serious declines in migratory shorebirds.
In-depth studies by BirdLife International have indicated that rapid declines in three species of wader that migrate between Siberia and Australia are due to land reclamation along
China
's Yellow Sea coastline.
Research has revealed 20 per cent reductions in the survival of three shorebirds that use Yellow Sea mudflats to refuel while migrating along the East Asian-Australasian Fly-way. Knot , Great Knot and Bar-tailed Godwit nest in different areas of north-east Siberia but rely on staging posts in the Yellow Sea before wintering together in Western Australia.
By individually marking thousands of the birds with colour rings, an international team of scientists calculated the annual and seasonal survival of the three species from 2006-2013. They found that the birds' survival rates remained constant on breeding and wintering grounds, but declined markedly from 2010 onwards during and immediately after each migration.
The team concluded that the declines stemmed from the loss of habitat and food on Yellow Sea mudflats, a direct result of land reclamation. Between 1990 and 2013, the area of shallow seas and intertidal flats along the Yellow Sea coast shrank by an average of four per cent per year, with the rate of loss doubling towards the end of the period.
"This research delivers proof that land reclamation around the Yellow Sea puts many migratory birds at risk," said Professor Theunis Piersma of Royal Netherlands Insitute for Sea Research, who headed the research team. Piersma fears that continuing land reclamation will result in "a further halving of the shorebirds' populations within three to four years. To halt further losses, the clearance of coastal intertidal habitat must stop now."
"Shorebird populations worldwide are declining and their habitats are under stress from human factors including land-use change, but the loss of habitat in the Yellow Sea is particularly alarming, " said Ade Long at BirdLife International.
BirdLife International, in its role as Red List Authority for birds on the IUCN Red List, uplisted all three of these species to higher threat categories in 2015, partly owing to further information about their declining populations on the East Asian-Austalasian Fly-way.
Content continues after advertisements