Urban gulls favour fast food
b1faed24-9b50-492f-b364-966aeb008837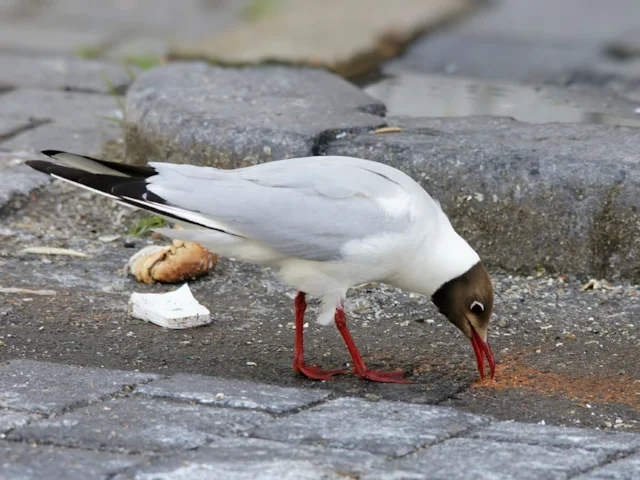 Black-headed Gulls in urban environments are better at responding to human foods than their rural counterparts, new research has shown.
Researchers at the University of Liverpool used white bread and fresh sprats as examples of 'anthropogenic' and 'natural' food sources, to demonstrate that the preference for human food increases with the level of urban development.
Across the 11 study sites on the Irish Sea coastline of Merseyside, the selection of natural food decreased from 80 per cent of trials at the most rural site at Banks to 5 per cent at the most urban site at Crosby, indicating that Black-headed Gulls prefer the food types most likely to be found in their immediate environment.
Black-headed Gulls became quicker at responding to the foods supplied by the researchers during the course of the study, further demonstrating that gulls can rapidly adapt to human activity. Urban birds were more tolerant of humans to begin with, allowing them to take advantage of 'fast food' more quickly than their country cousins.
However, Black-headed Gull's impressive ability to adapt to man-made environments may cause them to fall into ecological traps. Although readily available to gulls in towns and cities, the fast foods these birds learn to recognise and rely on might lack the important nutrients found in fresh fish and other natural foods. There may also be an issue in the ability for birds to respond to rapid increases in urbanisation.
Jonathan Green, co-author of the paper, said: "People think of gulls as pests in the urban environment, but urban breeding and foraging areas have become really important sites for these highly intelligent and adaptable species, which are otherwise in decline. Our work shows the importance of conserving natural food supplies, as ultimately these will provide more stable and sustainable habitats for these birds."
Reference
Scott, P, Duncan, P, and Green, J A. 2015. Food preference of the Black-headed Gull
Chroicocephalus ridibundus
differs along a rural–urban gradient.
Bird Study
62: 56-63.
Content continues after advertisements