UK can switch to green energy without harming wildlife
1d58e5b4-22f5-47b7-a82c-6467921be56d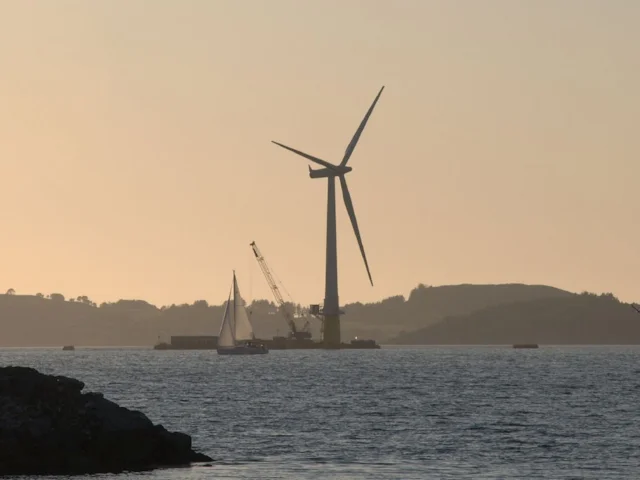 A new RSPB report says that the UK can match its internationally agreed climate targets without risk to wildlife.
The bird conservation charity strongly supports renewable energy because of the threat of climate change, but it is well-known that poorly located and badly planned developments can harm wildlife. However, the RSPB's newly published research shows that the country's 2050 climate targets can be achieved using high levels of renewable energy, with low risk for wildlife and protected areas.
The study suggests that the UK has the potential to deliver up to four times its current energy consumption from renewable sources, if a strategic approach to planning is taken to avoid important species and habitats. The report – entitled
The RSPB's 2050 Energy Vision
– outlines three energy scenarios that meet climate targets in harmony with nature and shows for the first time how renewable technologies could meet the majority of the UK's energy needs, while avoiding harm to important species and habitats. In addition to high levels of renewable energy, the scenarios demonstrate the importance of demand reduction and energy storage.
Climate change is recognised as the single greatest threat to people and nature globally. The UK's target is to reduce its greenhouse gas emissions by 80 per cent by 2050, and decarbonising the country's energy supply is a major part of this challenge. The RSPB strongly supports well-sited renewable energy, for example where bird collision is avoided by placing the wind turbines away from migratory fly-ways. The charity spends considerable time engaging with planning applications to ensure that such sensitive areas are avoided, and the organisation robustly fights developments with unacceptably high impacts.
The research was carried out by RSPB scientists who developed pioneering mapping approaches to assess where renewable energy technologies – including onshore wind, solar, bioenergy, offshore wind, wave and tidal energy – could be located to avoid sensitive wildlife areas, taking account of other planning constraints such as infrastructure and land needed for food production. Results show that the UK could generate up to four times its current total energy demand from renewable sources, but this is dependent on a strategic approach to energy planning, where projects are located to maximise generation at the lowest cost to nature.
While a large proportion of this potential is for offshore renewables in deeper waters – using wave and floating wind technologies which will take time to develop – the research also identified considerable areas available for established onshore renewables. For example, the results found that Scotland could increase its onshore wind capacity by three times and its solar capacity by 30 times.
However, the charity says that further investment in monitoring of wildlife distributions and sensitivities, especially in the marine environment, is essential to ensure future developments are located appropriately and our best wildlife areas safeguarded.
This research enabled the RSPB to develop three 2050 scenarios to meet energy needs with low risk for wildlife. The scenarios include a range of renewables alongside energy storage, interconnection with other countries, and smart grid networks which will enable better matching of energy supply and demand. They assume demand for energy will be reduced by a third, meaning government support is required to ramp up measures like home insulation.
Based on these findings, RSPB Scotland has set out 10 recommendations for the Scottish Government to decarbonise energy in harmony with nature. Its director, Stuart Housden, said: "It's critical that we work together now to make this happen. Climate change is one of the single biggest threats to people and nature alike, but with Scotland's nature in decline, we have a responsibility to invest in an energy system that works for both people and our natural heritage. The government has a key role in developing a strategic approach to spatial planning to guide the right developments to the right places.
"We have shown that this can be achieved affordably and securely, and are committed to continuing to work with responsible developers and decision-makers to help achieve our vision."
Content continues after advertisements