Two more Red Kites found illegally killed in north Scotland
79ead40a-9885-46ae-9b5a-bd5bd8362560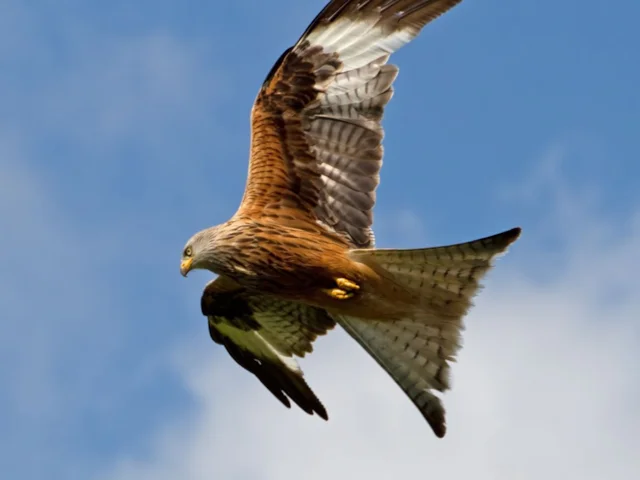 Two more Red Kites have been confirmed by Scottish Government forensic testing to have been illegally killed in north Scotland.
Both incidents took place in 2014 and are now being made public as the police have concluded their enquiries.
The first victim was found last June near Beauly, and was subsequently confirmed by post-mortem, at the SAC Veterinary laboratory in Inverness, to have been shot. The second individual was found in September 2014, some three miles south-east of Cawdor village in Nairnshire. It was confirmed by Scottish Government laboratory testing to have been illegally poisoned with a banned pesticide.
This female bird was part of a successful breeding pair which bred at Cawdor Castle in Nairnshire in 2014, representing the first breeding record of Red Kite in the county for over 100 years.
Both birds had been fitted with satellite tags by RSPB Scotland as part of a wider project to follow the movements of the species and learn about the factors influencing their survival. It is doubtful whether either of the corpses of these birds would have been found if the satellite tags had not been in place.
These crimes happened shortly after the Spring 2014 illegal poisoning incident that killed at least 12 Red Kites and 4 Common Buzzards on the Black Isle near Conon Bridge. This appalling crime received widespread media coverage at the time and engendered national outrage, as well as prompting a protest by concerned local members of the public on the streets of Inverness.
Research by RSPB Scotland and SNH published in 2010 showed that the Red Kite population is being severely constrained in the north of Scotland by illegal killing. The study compared the performance of two Red Kite release projects where equal numbers of young kites were released over the same period, as part of the initial phase of Red Kite reintroduction in Scotland and England. While the population in the Chiltern Hills in England has thrived, reaching an estimated 320 breeding pairs by 2006, the Black Isle population has struggled, reaching a meagre 41 breeding pairs over the same period – far lower than could have been expected. In 2009, the Black Isle population was still only 49 breeding pairs.
Duncan Orr-Ewing, Head of Species and Land Management for RSPB Scotland said: "Since Red Kite reintroductions began in Scotland in 1989, over 100 birds have been confirmed as illegally killed, with a significant majority found poisoned. The real figure will be much higher as the finding of these satellite tagged birds demonstrates. Our scientific modelling work has shown that illegal persecution of Red Kites, particularly in the north of Scotland, is having a significant impact on population growth and range expansion.
"Red Kite is a popular species with the public and tourists, featuring highly in recent polls to find the UK's national bird. It poses no threat to land use interests due to its scavenging behaviour, but is vulnerable to the indiscriminate use of illegal poison in the countryside. We encourage anybody with information about the use of illegal poison or other wildlife crimes to contact the police."
Content continues after advertisements