Training scientists to save seabirds
dd160421-70ac-430d-a53d-71cfe9b10e0c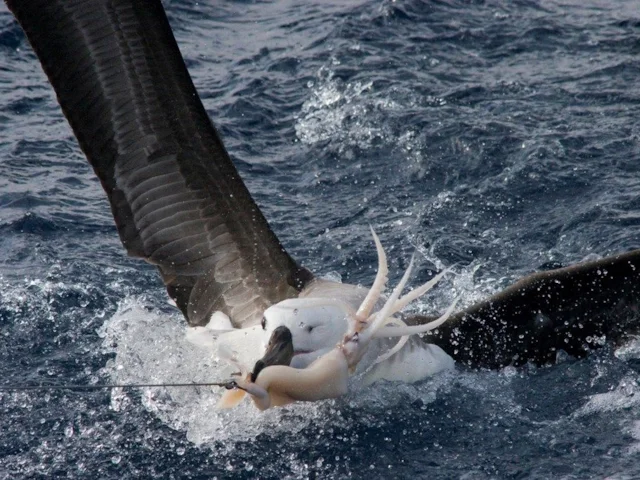 BirdLife is training biologists internationally to monitor seabird by-catch as part of their actions to save endangered albatrosses and petrels.
Alton Liao is tall, calm of character and with a measured approach to work. He knows his fish and he knows his boats. He's spent many days at sea as an observer, monitoring fishing catches. And now he has become a seabird identification expert too. Alton recently went to New Zealand where he undertook training organised by BirdLife International's Marine Programme, and took his new skills back to Taiwan where he himself is a trainer.
Alton works on behalf of the Taiwanese Fisheries Agency, where he trains 'fisheries observers' – independent specialists who go out on fishing boats to monitor and record catch composition, accidental by-catch, safety issues and the implementation of quotas and regulations.
When it comes to understanding the impact of such regulations in protecting seabirds, some countries' observer programmes need a bit of a helpful boost to record seabird by-catch. Reliable data from proactive and trained scientists and fisheries observers is key – this is why BirdLife's Marine Programme focuses on strengthening the capacity of researchers and fisheries officials.
Alton says: "Taiwanese long-liners fish in three oceans and we catch a lot from nature, so it's our duty to improve our skills in conservation – identification and good data is the basis for better conservation."
Alton is the first Taiwanese trainer of observers to gain specialist seabird identification expertise. Skills development included necropsy (aka autopsy) training, and how to determine sex, breeding state, confirm species ID and effectively observe live birds off New Zealand's coast.
Hundreds of thousands of birds are accidentally killed each year by long-line, trawl and gillnet fisheries, and to understand the impact of this incidental loss of life, it is necessary for national fisheries observers and scientists to have the skills to identify birds both dead on the decks of vessels, as well as alive on the wing or on the waters' surface.
BirdLife have worked hard alongside many national governments
over the past 10 years
to support improved seabird regulations in the five major tuna commissions. These Regional Fisheries Management Organisations now require long-line vessels to use seabird by-catch mitigation on board, but gathering data on the number of birds killed and the rate that they are killed across whole ocean basins remains a significant challenge, due to lack of reporting or submission of non-useable data.
Yukiko Inoue, Researcher at the National Research Institute of Far Seas Fisheries (NRIFSF) in Japan, took part in a similar training programme delivered through BirdLife in 2012. She explained the value of the experience: "Seabirds accidentally captured in the southern hemisphere look similar to each other and there is a large number of species in the area, so training is important for researchers to avoid making mistakes. The training in New Zealand helped me a lot – I was able to enhance my identification skills, which helped improve my knowledge and interpretation of observer data.''
Yukiko and her colleagues have recently reported on the effectiveness of seabird regulations in both the Indian and Atlantic Oceans, using data collected by Japanese fisheries observers.
"It is great to see leadership from Japan on reporting observer data," said Dr Cleo Small, Head of BirdLife's Marine Programme. "There remains a long way to go in terms of reporting seabird by-catch. We continue to work with national scientists and the tuna commissions themselves to improve the quality and consistency of monitoring to ensure that regulations to protect seabirds are effective on a global scale.''
Now back in Taiwan, Alton is developing an adapted Taiwanese seabird identification guide for use by observers. "I feel thankful [to] BirdLife for the opportunity" he says. "It's a good chance for me and for the Fisheries Agency and their observers to have better information about ecology and conservation of marine life."