Top fashion designers create stylish homes for birds
631eccf7-e722-41f9-bf5c-e9d22538c41e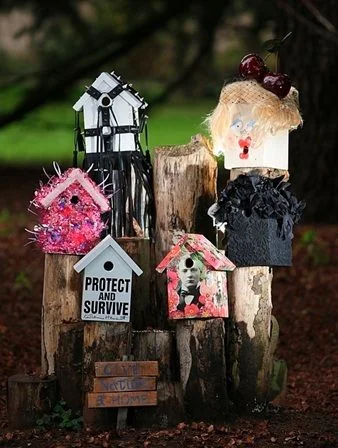 With London Fashion Week and National Nest Box Week both starting today, famous fashion designers have made their own nest boxes to raise money for the RSPB.
A number of big names from the British fashion industry, including Lancashire-born Wayne Hemingway, have come together to help save nature by putting their unique stamp on a nest box. It's not often the worlds of style and wildlife collide, but with London Fashion Week and National Nest Box Week both starting on 14 February, the RSPB and the British Fashion Council decided to join forces.
The charity asked a host of celebrity designers to put their stamp on a plain, white nest box all in the name of giving nature a (more stylish) home, and the results are amazing. Designers like Dame Vivienne Westwood, Julien Macdonald OBE, Katherine Hamnett CBE and John Rocha CBE are among those who have designed a nest box, and the standard wood designs have been replaced with bold prints, floral patterns and even leather and chains!
Wayne Hemingway MBE, who was born in Morecambe, designed a property-style
nest box
. The bespoke nest boxes will be displayed in The Shop at Somerset House throughout London Fashion Week (14 - 18 February) and Vodafone London Fashion Weekend (20 - 23 February), and will be sold in an eBay auction to raise money for the RSPB. All funds raised will go towards the RSPB's conservation work and be spent on projects like restoring wild places, research into species declines and community engagement.
British fashion designer Giles Deacon, well-known for his playful designs, said: "I love to make time to support good causes, and Britain's wildlife is a cause that really needs our help. It's fabulous that so many designers have got behind this idea – it's a really great way to get us all thinking about how we can make a home for nature on our back doorstep. It's fun and makes the world a better, more beautiful place – just like fashion!"
Alison Enticknap, from the RSPB, said: "Wildlife and fashion might not be an immediately obvious combination, but when the designers heard our idea they were really keen to use their creative flair to help make a difference. These designer creations are a bit more chic than the usual plain, wooden nest boxes – I'm not sure garden birds would know what to make of them!"
Caroline Rush Chief Executive of the British Fashion Council, commented: "Fashion is becoming increasingly more environmentally aware and any project that drives this awareness is something we fully support. We look forward to unveiling the results at The Shop at London Fashion Week."
For more information, please visit
www.rspb.org.uk/nestboxauction
.