Thousands of animals affected by angling litter in 2018
9c15ffa3-bfb7-4200-8291-ac7ce376204f
After the RSPCA revealed that it received 3,274 calls last year about animals affected by angling litter, the charity has introduced fishing tackle recycling facilities at its wildlife centres to help reduce injuries and fatalities.
Incidents reported to the RSPCA in 2018 included birds swallowing fishing hooks and entanglements in fishing line, often leading to death. Waterbirds were the most affected, with the species involved in the highest numbers of calls being swans (1,684), geese (461) and ducks (283).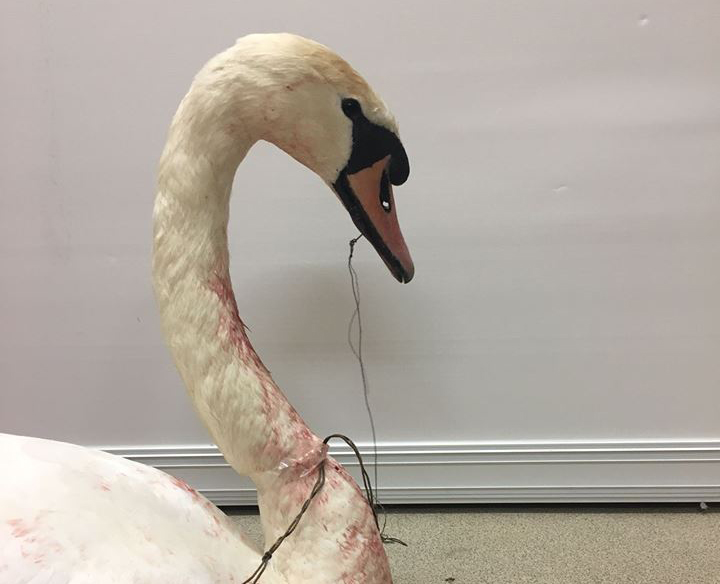 This Mute Swan got tangled with fishing line in 2017 (RSPCA).
Holly Barber, anti-litter campaign manager for the RSPCA said: "We're hoping that our new recycling facilities will help reduce the terrible toll that is taken on animals by carelessly discarded fishing tackle. Our records show that waterbirds are particularly vulnerable to this hazardous material.
"The majority of anglers do dispose of their litter properly and it is frustrating that those who don't may not have realised how dangerous it is to animals. Discarded line in particular is a terrible hazard for wildlife, especially as it can be almost invisible."
Angling litter recycling points are now sited at the RSPCA's four wildlife centres at West Hatch in Taunton, Somerset; Stapeley Grange in Nantwich, Cheshire; East Winch near King's Lynn, Norfolk and Mallydams Wood in Hastings, East Sussex, as well as hundreds of other sites throughout the UK.
Barber continued: "We received well over 3,000 reports last year about animals – mostly swans, geese and ducks – affected by hooks and lines. We hope anglers and others who may have found discarded fishing paraphernalia will help to reduce the number of these incidents by using the new recycling points at our Wildlife Centres and at other points around the UK.
Content continues after advertisements
"We strongly urge those who enjoy fishing to be extra careful to ensure nothing is left behind. Most anglers are very responsible when disposing of their litter, but it only takes one careless person to endanger the life of an animal. We ask all those who enjoy fishing to follow the Angling Trust's Take 5 campaign and make use of the Anglers National Line recycling scheme to dispose of their waste tackle and line."

The RSPCA hope the new bins will reduce the amount of angling litter (RSPCA).
Viv Shears, Co-Founder of the volunteer led Anglers National Line Recycling Scheme (ANLRS), added: "The scheme encourages anglers, whether they are freshwater, sea or fly participants, to collect any discarded line they find while fishing and drop it into one of the scheme bins around the UK.
"A huge amount of line is also discarded when anglers change their old lines at home and this has historically ended up in landfill sites, where it is not only a risk to scavenging wildlife but it takes hundreds of years to degrade.
"Some 4 million metres of fishing line has been collected and recycled in the UK since we started the ANLRS in early 2018. Anglers are, in general, very conscious of the environment they fish in, enjoy seeing the wildlife around them and strive to take their litter home with them."