The Third Spurn Migration Festival: 4-6 September 2015
a75fdfa3-26d4-4200-96f7-1b75d5e34086
Giving something back.
Those three words encapsulate the Spurn Migration festival. Andy Roadhouse and I conceived the idea several years ago that we wanted to give something back. Guiding folk around Spurn, we became aware that what had become familiar to us was a huge wow to our visitors. Indeed it was magical — almost like a kind of 'best kept secret' in British birding. So the question was how to share the wonder of Spurn, its birds, its wildlife and the extra dimension of phenomenally accessible, very visible migration. As we approach the third festival we do so with great expectations! The place just keeps on delivering. Have you seen the number and variety of species passing through Spurn these last few weeks? Have a read about it here. Roll on September!
What's on in 2015
You can read the overview of events and fuller timetable to see what's happening in 2015. Importantly, we have two new events as well as new artist Richard Thewlis joining Darren Woodhead and Ray Scally with superb displays.
On the Friday evening there will be an overview of migration on the East Yorkshire coast and at Spurn. Just a lovely family feel to warm up the migration festival, giving the people all the information they need at the Festival's start.
On Saturday night, Yoav Perlman will present a lecture on migration through Israel ('Where migration is defined'). With massive resurgence and interest in the migration flyways of the Middle East — conservation is at the fore but there are also new discoveries about bird movements and new taxa being discovered. It's one the best places to pioneer and be 'wowed'. The sheer spectacle is one of the natural wonders of the world, and Yoav is easily one of the most qualified people to educate and inspire us.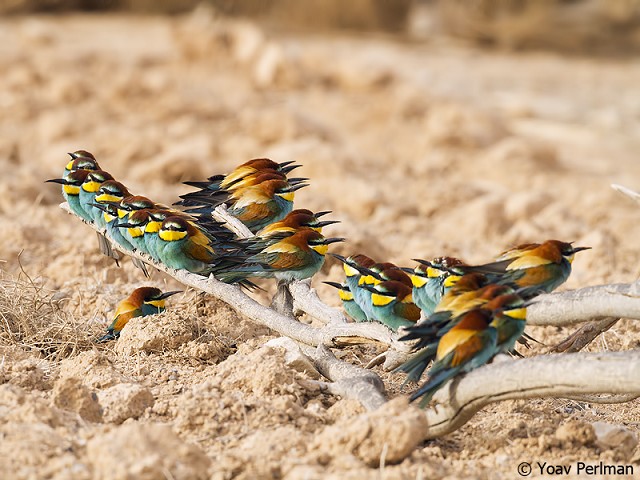 European Bee-eaters (Photo: Yoav Perlman).
Content continues after advertisements
Young Birder of the Year
The Spurn Bird Observatory Trust and Next Generation Birders' Young Birder of the Year Competition. This event is already in full swing and the final contestant will be put through their paces and assessed to find the first winner, over the Spurn Migration Festival weekend. The winner's prize is a brand new pair of Swarovski binoculars and all the prestige of this new event!
Prize Bird Race
All weekend visitors will have the opportunity to enter the Bird Race. Entry is Free. Teams must endeavour to see as many species between dawn Saturday morning and noon on Sunday. Teams can be of two, three or four people. Checklists will be provided together with regular updates on the radio system of species relevant to the race. Members of the winning team will receive copies of the Birds of Spurn and Challenge Series: WINTER. Presentations will be made to winners on Sunday lunchtime. Set to be a firm favourite!
Events programme: there is a sheet showing a full range of events to choose from such as guided migration walks, sea watching, ringing demonstrations, wader watching and identification workshops, moth trapping, plant walks, beachcombing, bat walks and much more. There are plenty of other lectures and events with staff from BTO, RSPB, Swarvoski, Opticron etc. View the programme here.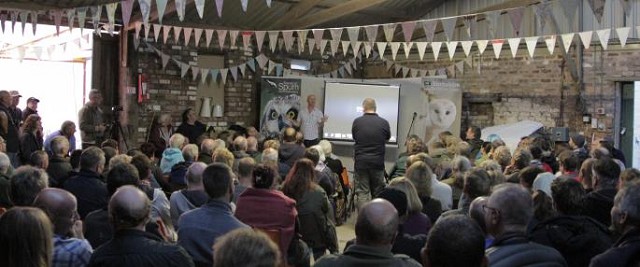 Mike Dilger gives a lecture at Migfest 2014.
Where to buy tickets
It's still possible to get full weekend tickets. However as it's fast approaching, some folk may want to try coming just for the day on Saturday and Sunday- both great options. See spurnmigfest.com/2015/06/mig-fest-2015-tickets-now-on-sale.
Partnership
Thanks to the partnership of the Spurn Bird Observatory Trust, Yorkshire Wildlife Trust and our amazing hosts, Andrew and Sue Wells at Westmere farm, we have been able to establish a very special event. Don't take my word for it. You need to hear or read the stories for yourself. Have a watch of this video made at the 2014 Festival.