The reality of climate change
6b16b315-07ec-45f8-96e6-978bc27cabab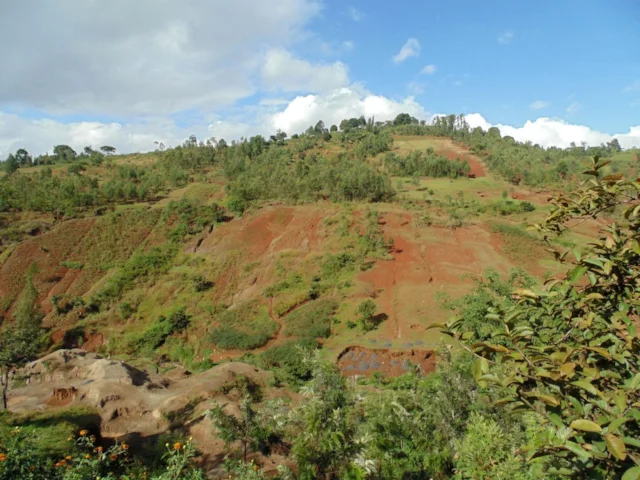 Climate change is no longer an abstract concept, but a new conservation scheme is showing how this harsh reality can be coped with in the daily lives of poor people around the globe.
Events in villages in South Kivu,
Democratic Republic of Congo
, are forcing people to realise that major changes are happening right now, affecting their immediate physical environment and even the social structure of their communities.
It was not long ago that local people realised that their agricultural calendar was changing. Agricultural lands were traditionally cultivated three times a year, in January, April and September, but now crops are produced just twice a year, and often with difficulty. Crops are being affected by frequent longer periods of drought, while at other times in the year the plants are damaged or destroyed by torrential rains and hail. Crops are being attacked by various diseases such as mosaic virus which affects cassava and banana plants, while soil is washed away and gradually becomes unproductive. Periods of famine have become a reality, resulting in increased cases of crop theft which leads to social conflict in families, villages and in the chiefdoms.
The area has had its share of natural disasters over the years, but in October 2014 overnight torrential rain resulted in immeasurable damage to communities in Kalehe Territory in the South Kivu Province. Massive landslides destroyed and damaged houses, public infrastructure (such as hydroelectric power stations, churches and schools) and crops. Even worse, many people and domestic animals were reported to have been killed. In the aftermath, many villages do not have access to clean drinking water because facilities were damaged.
Climate change is directly affecting people, and organisations are trying to support local communities to help find sustainable strategies to cope with its effects. Horizon Nature is an NGO working in South Kivu and is partnering with BirdLife International and other partners in the region to enhance climate change resilience in the Lake Kivu Basin through applying the 'CRAG' approach. The acronym CRAG stands for Climate Resilient Altitudinal Gradient, a term for land areas characterised by a climate resilient biodiversity and ecosystem.
The CRAG approach brings together conservation approaches and activities such as integrated water management, an ecosystem-based adaptation to climate change, soil and forest management and community livelihoods. All have impact across the landscape in ways that directly benefit human wellbeing. Kalehe has been identified as a priority area where Horizon Nature will start working with communities to enhance their resistance to climate change, with the aim of reducing the chance of the October 2014 disaster happening again.
Content continues after advertisements