The March issue of Birdwatch is now on sale!
fef7a52c-23d1-4c5c-b848-9b540408acdb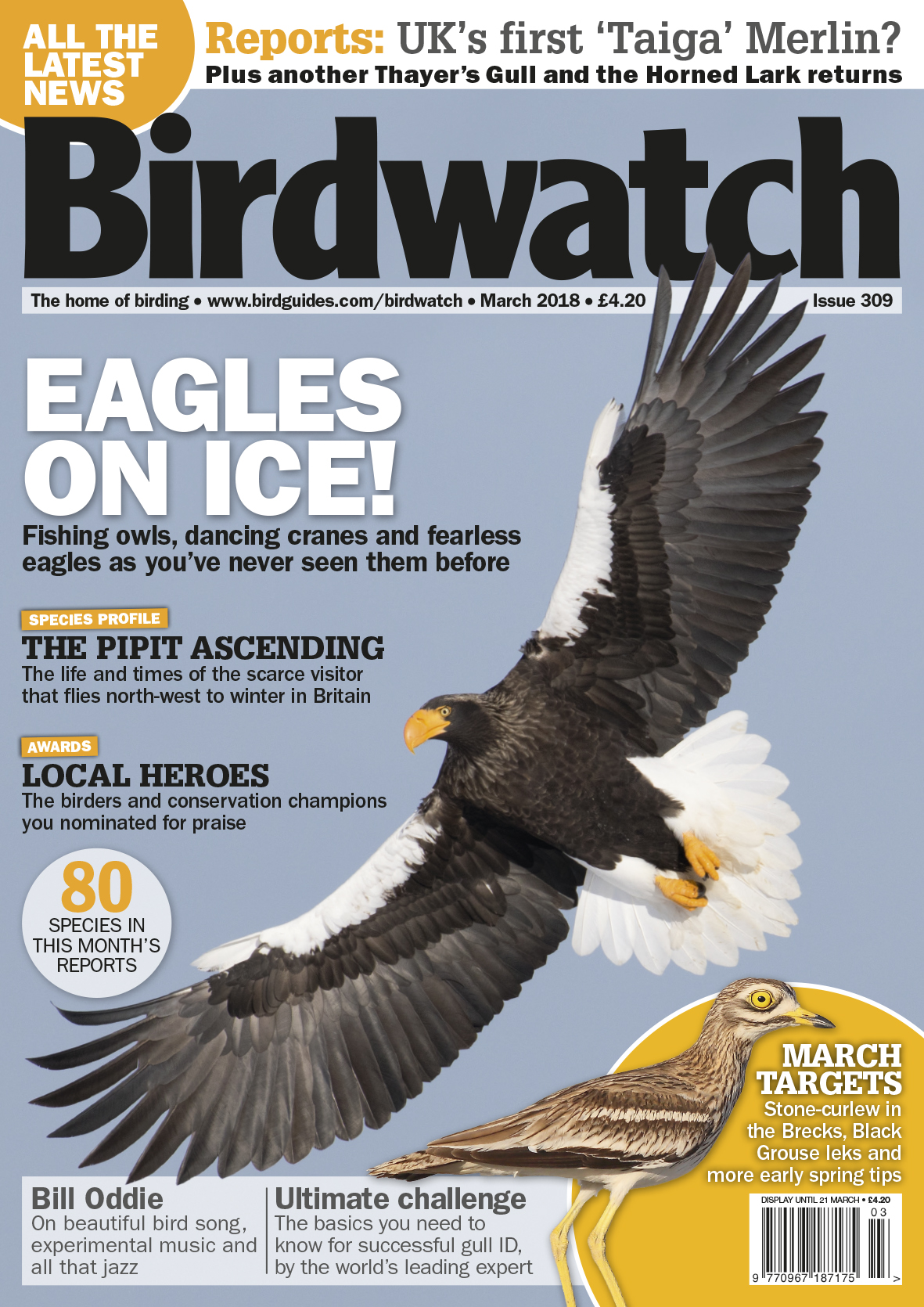 The Local Heroes category in the Birdwatch and BirdGuides Birders' Choice Awards always make for a fascinating and often touching read. The work that ordinary people are doing across Britain and Ireland, and the wider world, often goes unnoticed and this nomination is a chance to recognise that. In the March issue of Birdwatch, which is on sale now, we have chosen some of our favourite nominations – is yours there? Find out in the issue today. Also featured are the astonishing birds of Hokkaido and details of Britain's first Taiga Merlin.
This month's issue is full of news, reviews, advice and much more, including:
Water features
Now looking its pinkest and plushest, this is the best time to catch Water Pipit in its breeding finery before our small wintering population migrates back to its Alpine haunts for the breeding season. This counter-intuitive south-easterly spring migration is just one of many intriguing facets of the ecology of this scarce migrant visitor, as David Callahan reports.
Larid primer
Gulls may be among the most problematic families when it comes to bird identification, but our knowledge has advanced dramatically in recent years, and so too has the literature available to larophiles. In a special feature to mark the publication of the long-awaited Gulls of the World: a Photographic Guide, author Klaus Malling Olsen helps establish the basics every birder needs to know.
Local heroes
Following the latest Birders' Choice Awards and your many nominations in the Local Hero of the Year category, we take time out to honour those who have acted as great ambassadors for birding and conservation in the last 12 months, and who have set shining examples for others to follow.
Content continues after advertisements
Made in Japan
In winter, the sub-zero snow-covered expanses of Hokkaido in northern Japan offer some of the most breathtaking experiences in birding. Josh Jones heads east to marvel at dancing Red-crowned Cranes, soaring Steller's Sea Eagles, pond-dipping Blakiston's Fish Owls and much more.
Also where to find Eurasian Stone-curlew as the first birds arrives back in the country, Britain's first Taiga Merlin in the Highlands and Thayer's Gull in Hampshire, more top birding routes around the country, columnists Bill Oddie and Mark Avery, Steve Young's latest photo challenge, all the big rarity stories from BirdGuides.com, and news, reviews and birding Q&A with our experts.
Birdwatch's March issue is on sale in newsagents now – order your copy of the magazine online today and get the single issue delivered for FREE (in the UK, while stocks last). Or you can download the digital edition, with its host of video, image and sound file extras. The digital issue is available for PC/Mac, iPhone/iPad and Amazon devices.