The Great Bustard Reintroduction Project
28293b68-c9f8-46e6-8ca3-705a5499bdf1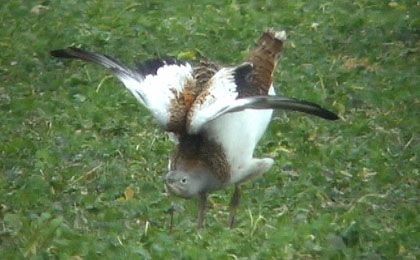 Great Bustard: Bleadon Level, Somerset A fine species and one which looks set to once again become part of our landscape due to the reintroduction project (photo: Steve Evans).
There have been some exciting events recently regarding the Great Bustard reintroduction project that is underway on Salisbury Plain, Wiltshire. Most of the birds that were released last autumn wintered away from the release site but have begun to return to the Plain for the summer.
The Great Bustard is the world's heaviest flying bird and this spectacular species was once very much part of the UK's birdlife before it finally became extinct in this country due to persecution in the 1840s. The aim of the reintroduction project is to establish a self-sustaining population of Great Bustards in the UK. Unlike previous efforts to re-establish Great Bustards in the UK, the current project does not rely on captive breeding to supply birds for release. Instead, chicks are reared in captivity from wild-laid eggs and then released back into the wild and left to their own devices.
The natural habitat for Great Bustards is the expansive Eurasian grassland plains (steppe), much of which has now been cultivated. However, it now appears that Great Bustards often prefer to nest in agricultural fields even when areas of natural grassland are available. Vast areas of southern European Russia were formally steppe but much of it has been converted to cereal fields. In southern Russia, the trans-Volga area, but in particular the Saratov Oblast (an administrative region), is home to the second-largest population of Great Bustards in the world, estimated at 8,000-10,000 individuals. The A.N. Severtsov Institute of Ecology (Russian National Academy of Science) has been studying this population for many years and saving eggs from nests in cereal fields that are about to be destroyed by agricultural machines. The eggs are artificially incubated and the chicks reared without seeing humans. Most of the chicks from this scheme are released back into Saratov but some of them are now used to supply the UK reintroduction project.
The UK reintroduction project was granted a ten-year trial licence by Defra in 2003, to release up to 40 Great Bustards a year on Ministry of Defence (MoD) land on Salisbury Plain. The first release took place in autumn 2004 when 22 birds were released. The following autumn, 2005, saw a second batch of 32 birds released and the third release is scheduled for this coming September.
All the birds in the reintroduction scheme are given a unique wing-tag for identification purposes. The colour of the tag indicates the year of release and the number identifies individuals: orange was the colour of the first year (2004), yellow the second year (2005), and green will be used for 2006.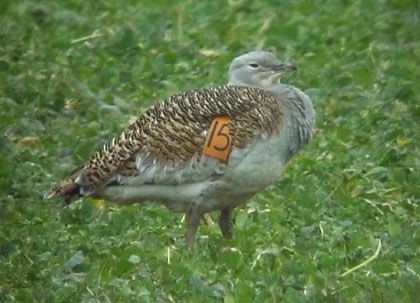 Great Bustard: Bleadon Level, Somerset 'Orange 15', a popular distraction for birders en route to the southwest earlier this year (photo: Steve Evans).
Content continues after advertisements
Great Bustards are known to be loyal to their natal sites but also to disperse away from these in the winter. Bustards from both the first- and second-year releases have been seen to disperse from the release site and have been recorded in several southern UK counties this winter. The movements of one bird in particular, 'Orange 15', have featured regularly this winter in the weekly BirdGuides newsletter. This is a female bird from the first year that spent much of 2005 on her own, south of Salisbury Plain before moving away in early winter. On 15th January she was discovered amongst a flock of Mute Swans in Westonzoyland, Somerset. About three weeks later she was found about 40 km north, on Bleadon Level near Weston-Super-Mare, again living amongst Mute Swans with whom she stayed for about 6 weeks. She was seen again 20 km away in Westbury Sub-Mendip in the first week of April. On 5th of May, an RSPB field worker monitoring Stone Curlews spotted 'Orange 15' back on Salisbury Plain, close to Stonehenge.
Perhaps the most remarkable sighting of a Great Bustard from the reintroduction project was of a female, 'Yellow 23', south of Toulouse in France in mid-January, a staggering 920 km from the release site. This bird left on the same day as another female that was sadly found dead two weeks earlier, under power lines, in Anger, France, which forms a straight line with the release site and Toulouse. Several other sightings came from Brittany over the Christmas period, which may actually all refer to a single female. Again, as plotted on a map it is a straight line between the release site, Dorchester, and the site of a positive identification of 'Yellow 31' in Brittany. To cross the Channel on this bearing to Brittany is a distance of 200 km.
Most of the Bustards, however, appeared to spend the winter in Dorset. Two males, 'Yellow 04' and 'Yellow 07', left Salisbury Plain on different dates in late November and early December but were seen together near Dorchester along with three others before returning to the Plain in mid-February. There were many other records of single Bustards and flocks of up to eight around Dorchester throughout January and February. A female that was seen alone several times in Dorset in January returned with another female which had not been seen for five months, since it left the release site on 3rd December 2005! These events suggest that we must assume the Bustards are alive even if there have been no reports of them for considerable periods of time.
The reintroduction project was set up and is managed by the Great Bustard Group, a completely independent organisation with charitable status. The Group receives no financial support from organisations such as the RSPB. Instead it generates its own funds by being a membership organisation and charging the public for guided visits to see the Bustards at the release site. The project has benefited from Land-Fill Tax Credit grants and the EU-funded rural development initiative 'Sustain the Plain' as well as many generous private donations.
If you would like to learn more about the project and be kept up to date about the released birds and all future releases, please visit our website and consider becoming a member of the Group. Membership costs £20 p.a. and includes quarterly newsletters and free guided tours of the release site. Non-members can also arrange a guided tour of the release site by telephoning the Group on 07817 971 327. Please note that due to access restrictions on the MoD Training Estate, all tours MUST be pre-arranged. Guided tours of the release site take place every day except Mondays and Fridays and will begin again in mid-September and run through to April 2007. These tours guarantee a view of Great Bustards and are a good opportunity to talk to project staff and also visit our new shop. A visit to the site gives exclusive access to our hide, which is an excellent place to enjoy views of many of the UK's farmland and downland birds. Over 80 species of birds, including 17 species of raptors and owls, have been recorded around the release site!
Despite their large size, Great Bustards can be very secretive and difficult to observe. It is fascinating that some of these birds have lived for months in the countryside without ever being seen, but if you do know any more details about any of the Bustards mentioned or have had sightings of any others please let us know. All sightings are greatly valued and contribute substantially to the monitoring of the project.
To report sightings to the Great Bustard Group please telephone 07817 971 327.
The Great Bustard Group would like to thank everyone who has taken the time to report their sightings of Great Bustards.