The future of England's most threatened birds of prey hangs in the balance
24ba1f97-f25f-4979-be18-981d590157e3
The future for England's most threatened bird of prey — the Hen Harrier — is looking perilous, as the species teeters on the brink of extinction as a breeding bird. Early reports indicate that only one pair is showing signs of nesting in England. If this situation continues it will be the worst year for Hen Harriers since they recolonised England, following extinction in the late 19th century. Worryingly, there are currently no birds attempting to nest in the Bowland Fells, Lancashire — the bird's only stronghold in England in recent decades.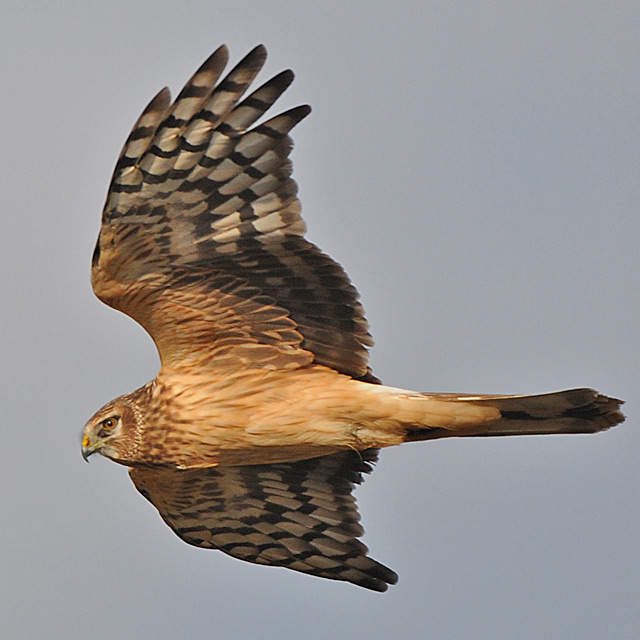 Hen Harrier, Lackford Lakes SWT, Suffolk (Photo: Bryan Wright)
Martin Harper, the RSPB's Conservation Director, said: "The Hen Harrier is noted for its wonderful rollercoaster display flight, but this bird's population in England is also on an extreme rollercoaster ride itself. After recolonising England, the bird is now perilously close to being wiped out in England, again, as a result of decades of persecution."
The RSPB's Dr Andre Farrar monitored Hen Harriers in the 1980s. Commenting on the situation today, he said: "When I started monitoring Hen Harriers, I had no idea that 2012 would be so bleak for Hen Harriers. When I started, the harriers were just establishing themselves in England after Victorian intolerance and extermination. Bowland has been their stronghold for decades — nesting attempts in other parts of England are infrequent and inconsistent. There are just too few of them in the English uplands."
Andrew Gouldstone is a conservation manager with the RSPB in Lancashire. Commenting on the Hen Harrier's plight, he said: "The sight of Hen Harriers is one of the joys of spending time in the hills of Bowland. The RSPB has been working with its partners for over three decades to safeguard Hen Harrier nests here. Bowland is still a safe place for Hen Harriers but protecting the birds away from their breeding grounds is very difficult and we may be about to lose them as a result."
Government-commissioned, independent research has shown that the English uplands could support more than 300 pairs of Hen Harriers. The authors conclude that persecution associated with the practice of driven grouse shooting is to blame for the harrier's plight. The Government has, via the England Biodiversity Strategy, committed to prevent human-induced extinctions of threatened species by 2020. The extinction of the Hen Harriers as a breeding species, for a second time, looks unavoidable unless an emergency recovery programme is put in place and there is a rapid and sustained reduction in persecution of these birds.
Martin Harper added: "Defra ministers have one chance to avoid breaking a promise. We're doing everything we can, but the Government, its conservation and enforcement agencies need to step up to the challenge of securing the future of Hen Harriers in England. The problem of illegal killing is well understood — we now need Government to bring solutions to the table."
The situation for Hen Harrier has become so dire that the RSPB has relaunched its Hen Harrier hotline enabling the public to report any sighting of these birds during the breeding season in England. The Harrier Hotline number is 0845 4600121 (calls charged at local rate). Reports can also be emailed to henharriers@rspb.org.uk. Reports of sightings should include the date and location of sighting, with a six-figure grid reference where possible.