The case of the missing Sparrowhawks
f097d6c7-6d2a-4a2c-9a05-a7bf81d77262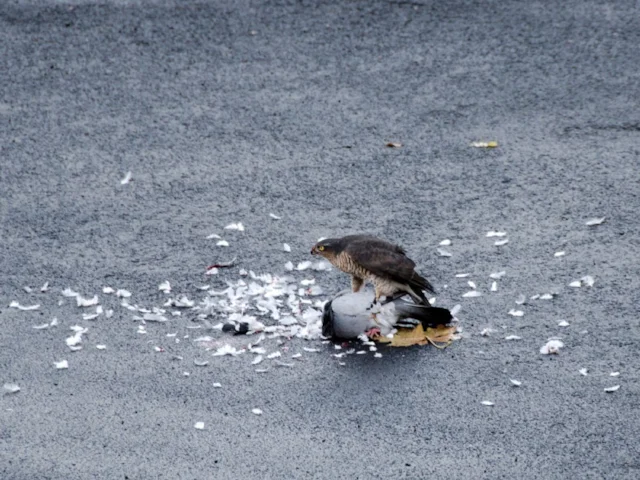 Sparrowhawks are most frequently seen in gardens during the autumn and winter months, but the BTO reports that they seem significantly fewer in number this year.
It's been a year of mixed fortunes for Sparrowhawk, with the highest recorded average counts in gardens in January 2016 followed by the lowest-ever numbers for December, as reported by
the British Trust for Ornithology's (BTO) Garden BirdWatch survey
.
In autumn and winter, numbers of the species are swelled by the presence of juveniles and lured into gardens by the smaller birds which move there to feed. January 2016 saw the highest average counts of Sparrowhawk for the time of year but since summer 2016 numbers have been abnormally low, according to Garden BirdWatch. They were only seen in 8 per cent of gardens in December, well below average and a 5 per cent reduction on December 2015.
The BTO suspects that this decline is linked to wet weather in June. This resulted in a poor breeding season for the smaller birds on which Sparrowhawks feed, such as Blue and Great Tits. With fewer young birds around there would have been less available food to feed their own chicks, potentially leading to lower survival in young Sparrowhawks, along with being directly affected by the wet weather.
Sparrowhawks are not always popular in gardens as they feed on other more popular garden birds. The species' population crashed in the 1950s and 1960s due to pesticide poisoning, but numbers have since recovered and they are the bird of prey most commonly seen in gardens.
It is not yet known whether this sudden decline will continue. You can help the BTO find out by joining the BTO Garden BirdWatch survey and giving a small amount of time each week to monitor your garden wildlife.
BTO Garden BirdWatch Development Officer Claire Boothby said: "The surprise appearance of a Sparrowhawk is always a dramatic garden event and one that has been witnessed by fewer people than usual this winter. Sparrowhawks rely on the availability of prey, particularly birds, to survive. We know that numbers of Great Tits and Blue Tits are down in gardens this year following a poor breeding season, and this may have had an effect on the number of Sparrowhawks seen in gardens."
To help the BTO by taking part in Garden BirdWatch please visit
www.bto.org/gbw
, email
gbw@bto.org
or telephone 01842 750050.