The BirdGuides news app is here!
71788b47-2525-4a97-a383-41aa8d95df47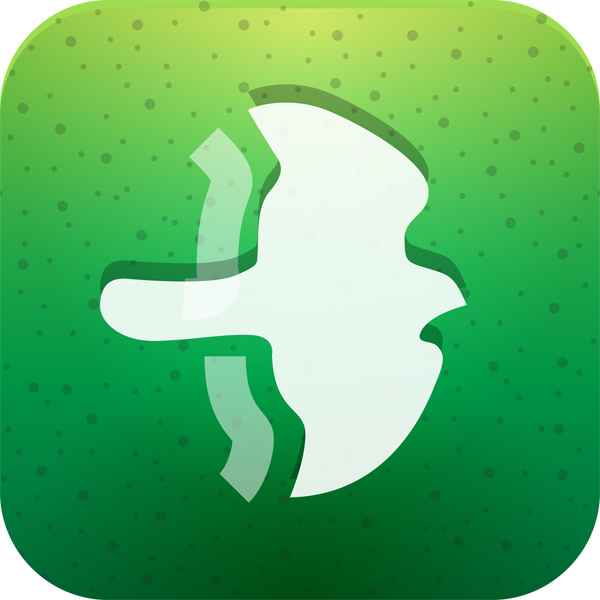 The BirdGuides app for iPhone, iPad and iPod Touch gives you instant access to all of our recent bird news and gallery images. Just like Bird News Extra, it also allows you to set up custom bird news filters on a county, region, national and species-specific basis. We've also added a "nearby" function to allow easy access to the bird news in your immediate vicinity.
On opening the app, you'll be asked to sign in or register. Sign in using the email address and password that you currently use for your existing BirdGuides account; if you do not have a BirdGuides account, registration is free and requires nothing more than a name, email address and password. Once you have signed in/registered in the app, the app homepage will be displayed showing the most recent news and gallery images.
Accessing the news
To view a list of all the recent news, tap the "Recent News" bar. A full list of all recent news is now displayed. To access details for a particular sighting, tap once on the report. County and the date/time of the sighting will be displayed for all users; to access specific site details and notes relating to the sighting, a Bird News Anywhere subscription is required. Existing Bird News Anywhere subscribers, once signed in, will automatically be able to access these details. For those who do not currently subscribe to a BirdGuides news service, an annual Bird News Anywhere subscription can be purchased for £40. A Bird News Anywhere subscription can be purchased online at http://www.birdguides.com/estore/p-810-birdguides-bird-news-services.aspx.
For those who already subscribe to one of the BirdGuides news services, a Bird News Anywhere subscription can be added onto you current subscription for the bargain price of £10. To add Bird News Anywhere to your current BirdGuides subscription, call 0800 919391 during office hours.
Tapping the Filtered button (subscribers only) will bring up a list of recent news based on your personal filters. To edit your filters, tap the Back button to return to the app homepage, then tap the cog in the top left. Tap Edit Filters and edit, add or delete accordingly. Filters can also be edited online.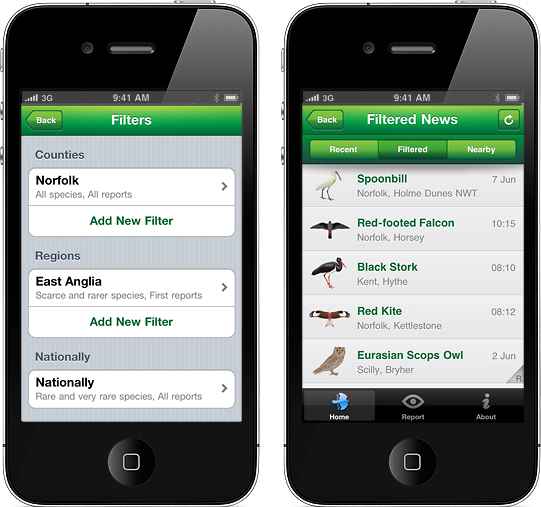 To find out what birds have been seen near you, tap the Nearby button. You will need to have Location Services active on your device to run Nearby news — either accept the message that should appear in your device the first time Nearby is used, or edit the Location Services in your device Settings.
On all three sightings pages, tapping the circular arrow button in the top right will refresh the news (or, if you prefer, use the "pull down" gesture). "New news" (that which has been reported since your last refresh) will show a small green bar to the left hand side. This bar will disappear once you have opened the news item to read details or following your next refresh.
Reporting your news
If you are lucky enough to come across a bird that you think should be on our news service, or if you would like to give an update on a sighting already featured, you can report your sighting via the app (registered users only). Tap Report on the bottom bar. Species, date & time and location are all required; and either species count or details needs to be completed before the record can be submitted. The date and time automatically defaults to the current time, but you can manually alter these. Location can be selected in one of three ways — by manually choosing a site, by manually entering a grid reference, or by locating the site on a map. If you choose the latter, the map location will default to your device's current location; tap Place Pin to mark the bird's location. You will then be required to enter a site name on the report form — this is especially important for birds that are, for example, near the boundary between two distinct nature reserves.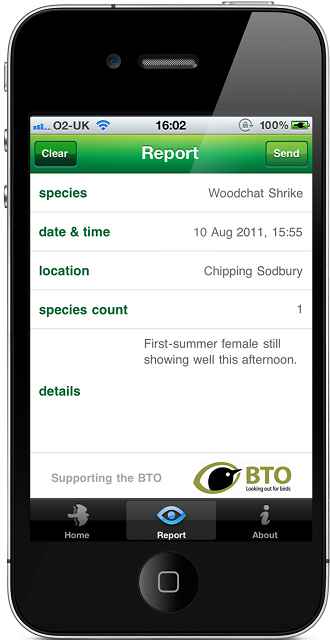 Records submitted using the BirdGuides app are shared with the BTO. If you have made an observation that may not warrant reporting on our bird news service (generally an observation of a common breeding or wintering species), we recommend submitting your sighting directly to BirdTrack.
The Gallery
From the app home page, clicking on the "Gallery" bar takes you to a gallery of our most recently uploaded photographs. Tapping once on brings up a larger image. You can swipe left/right through the larger images. Double tapping on a larger image zooms in/out; single tapping hides/shows details; tapping the information icon in the bottom left of the text panel displays further photograph details, where available. To return to the previous screen, tap Back.
Navigation
We know that iPhones, iPads and iPod Touches have a tendency to become one-stop-shops for anything that needs doing in one's life; so we've tried to make the BirdGuides app as integrated and easy to use as possible. One feature that we've carefully crafted is the ability to access maps and directions directly from the app. When in a news item, tapping on the location name brings up a Google map showing the site location. Tapping Directions opens the location in the device Maps app and automatically generates directions to there from your current location.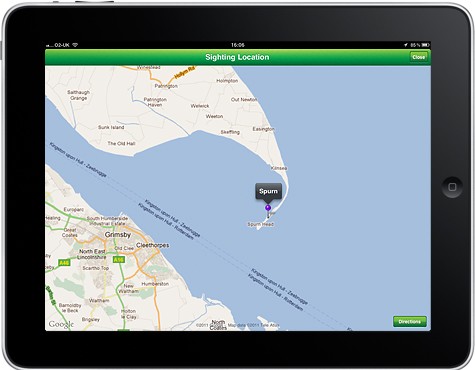 In many cases, it is possible to export the destination details for use in your preferred navigator (e.g. TomTom satnav). After tapping Directions, tap the red (destination) pin, then tap the information button. You can now either manually enter the address details into your satnav or, if using TomTom on your device, save the destination as a contact. Close Maps app, open TomTom app and select Navigate to... Contact, and select the saved destination. Note that in some cases, especially for more remote destinations, address details or postcode are not sufficiently complete for complete accuracy. We won't take responsibility for people driving into marshes, off cliffs, or the bird not being present when "You've reached your destination!".
Coming soon
Despite its recent release, we're already looking at ways in which we can improve the BirdGuides app. We're pleased to say that plans for push notifications — messages that appear on your screen when news is released, similar to a text message — are already in the pipeline. iOS 4 (the current Apple device operating system) made it impossible to introduce fully functioning push notifications into the BirdGuides app; however, the release of iOS 5 and its Notification Centre this autumn will change all of that and push notifications will make their way onto the BirdGuides app. Further details will be made available later in the year. Keep an eye on the weekly newsletter, or follow us on Twitter to be kept up-to-date with developments.
And Android users never fear. There is a version on its way. Again - follow us on Twitter for the latest developments.

The BirdGuides app is free to download. To download the app, visit the iTunes app store:
http://itunes.apple.com/gb/app/birdguides/id418131898