Tagging technology reveals the secret life of Hen Harriers
0acc4c55-f83c-4bd8-acc3-80e7145745d3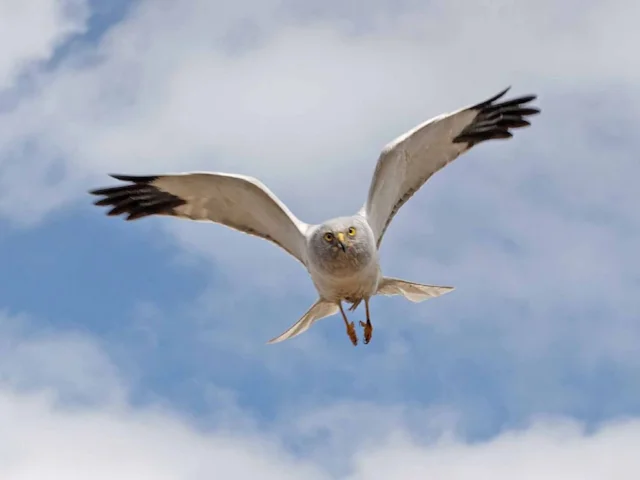 An RSPB project has used satellite-tagging technology to reveal new roost sites on Salisbury Plain for Hen Harrier, England's most threatened bird of prey.
Last summer, the RSPB fitted a satellite tag to a
Hen Harrier
chick, as part of the Life+ Project to conserve the species. The male bird, known as Nile, was tracked to Ministry of Defence land on Salisbury Plain, where it remained for a few weeks last autumn before migrating to mainland Europe for the winter.
With Salisbury Plain having long been established as an important wintering and roosting site for Hen Harrier, the MoD's Defence Infrastructure Organisation (DIO) – responsible for managing and maintaining the MoD's land and properties – has been working with its tenants for many years to implement management measures at known roost sites to improve conditions for the species.
Now, thanks to the information captured from Nile's satellite tag, together with records from the Wiltshire Ornithological Society, new Hen Harrier roosting and foraging areas on MoD land at Salisbury Plain have been revealed. This has enabled the DIO to implement further measures to make their land even more suitable for the raptors.
Hen Harriers breed in the uplands but spend winter foraging and roosting in lowland areas such as Salisbury Plain. Scientists estimate there is enough suitable breeding habitat in the English uplands for more than 300 pairs to breed but last year there were only six successful nests in the whole country. Studies attribute the critically low number of breeding Hen Harriers to ongoing illegal persecution. Earlier this year, the government committed to reversing the fortunes of the bird with the publication of the Hen Harrier Action Plan.
Bea Ayling, manager of the LIFE+ Project, said: "We are fitting satellite tags to as many Hen Harrier chicks as possible, so we can see where they go and find out [in] which areas they're getting into trouble. It's great news that the data we've captured from Nile's tag has been used to help implement more practical management measures that will help achieve a secure and sustainable future for Hen Harriers."
Paul Castle, Chairman of Wiltshire Ornithological Society, said: "I have been co-ordinating Hen Harrier roost counts on behalf of the MOD Conservation Groups on Salisbury Plain for the past 30 years, and the arrival of a satellite-tagged Hen Harrier presented a rare opportunity to map the foraging and roosting sites, especially within the Special Protection Area which was designated for [the species]."
Lisa Wade, DIO ecologist, said "The Ministry of Defence is committed to supporting the conservation of priority species across the defence estate. We've worked closely with Wiltshire Ornithological Society for many years to identify and manage Hen Harrier roost sites on Salisbury Plain and the satellite tag data has provided evidence that this management is working. It's a great example of how MOD and other organisations can work together to benefit conservation."
Read about the latest advances in tracking and tagging technology in April's
Birdwatch
, on sale on Thursday 24 March.
Content continues after advertisements