Swan up, duck down
77ec58c0-e81e-4f20-abb2-e3ea7258fcff
Millions of ducks, geese, swans and waders escaping the Arctic winter in northern Europe, Siberia, Greenland and Canada head for our shores, making the UK one of the most important European countries for wintering waterbirds. However, there are signs of dramatic changes for some wetland birds, including the Mallard: the UK winter populations of several species have exceeded previous maxima, while others have fallen to an all-time low. The latest population figures on wetland birds (and a host of other species) are published in the State of the UK's Birds 2011 report. The report provides a 'one-stop-shop' for the results of bird surveys and monitoring schemes and projects from across the UK from as recently as 2010.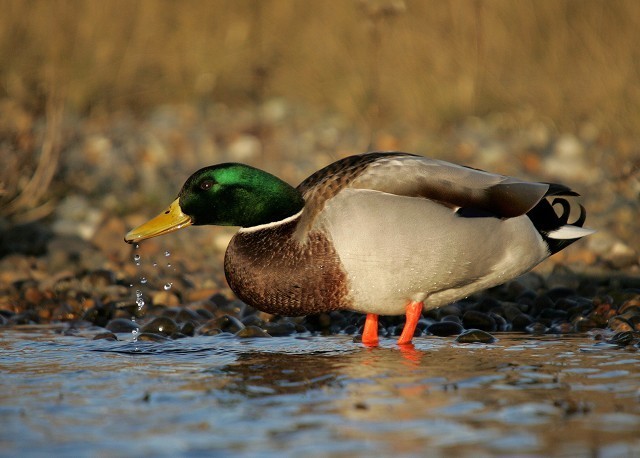 Mallard, Salthouse, Norfolk (Photo: Chris Cook)
Overall, numbers of wintering waterbirds have been in gradual decline since the late 1990s, but the underlying story is more complex. One of the greatest losses recorded in the report was for the Mallard, which has hit a new record low for numbers wintering across its UK strongholds. The State of the UK's Birds 2011 report shows that winter Mallard numbers have declined by 38% since 1982 and by 22% since 1998. In contrast, Shoveler has increased by 27% since 1998. Icelandic Whooper Swans soared to their highest levels with an increase of 122% over the past 10 years, while Bewick's Swans, which breed in Siberia, declined by 44% over the same period.
The reasons for such changes are complex and not yet fully understood. Results from waterbird monitoring schemes in other parts of Europe have shown that 'short-stopping', a phenomenon in which birds do not migrate as far as they traditionally would, is partly responsible. This is because progressively milder winters have meant that birds in eastern and northern Europe have not had to migrate as far south or west as they have done in the past. For some species, such as the Bewick's Swan, international co-operation has proved that climatic shifts are not solely to blame, as numbers are also declining in northern areas.
RSPB conservation director Martin Harper commented, "the UK has some of the best sites in the world for wetland birds and the sight and sounds of tens of thousands of birds wheeling around these wetlands ranks among the best natural-history experiences that our islands have to offer. Although the numbers of birds visiting these sites may fluctuate, they are vital and must continue to be protected. But the spectre of development, for example from ports and airports, continue to haunt some of our most important sites."
The story since 1998 is mixed. Species that have declined include Pochard (–46%), Dunlin (–39%), Bar-tailed Godwit (–29%), and Ringed Plover (–26%). In contrast, those that have increased include Avocet (+95%), Black-tailed Godwit (+53%), and Pink-footed Goose (+27%); Avocet and Pink-footed Goose have both reached their highest population levels since records began. British Trust for Ornithology WeBS Research Ecologist Neil Cabrade explained, "this shows the value of continued monitoring of wetland sites through long-running schemes such as the Wetland Bird Survey (WeBS). For more than 60 years, WeBS counters have carried out monthly surveys of over one and a half million birds annually, which allows us to build up a picture of the fortunes of these waterbirds and how they may be affected by climate change, habitat loss and development."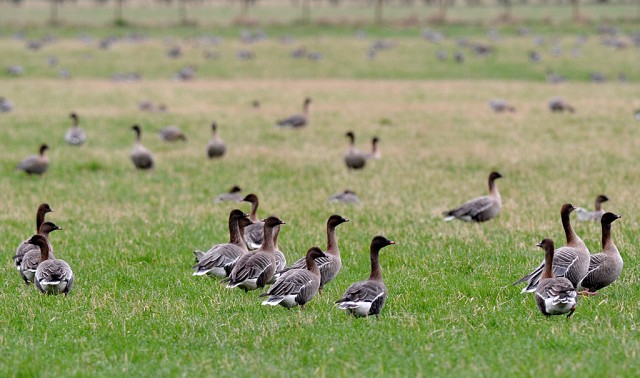 Pink-footed Geese, Flanders Moss NNR, Forth (Photo: Jim Duncan)
Head of Species Monitoring at the Wildfowl & Wetlands Trust Richard Hearn added, "we are seeing increasingly rapid changes in wintering waterbird numbers in the UK. Some species such as Goldeneye are most likely moving elsewhere, but others, such as Long-tailed Duck and Velvet Scoter, are thought to be declining everywhere and require urgent conservation action. Bewick's Swans also need continued focus to ensure conservation actions are implemented. With so many of these migratory birds reliant on our wetlands, the loss of 45% of wetland habitat in the UK in the last 75 years is also a major concern."
Natural England's senior ornithologist Phil Grice is also one of the report's authors. He said, "the production of robust evidence on the numbers and movements of birds is vital to ensure their long-term survival in a changing world. This report supports important conservation efforts which protect significant waterbird populations and their habitats throughout the year and provides an ongoing health check on the status and trends of key species."
Joint Nature Conservation Committee's Senior Ornithologist David Stroud explained, "forty years ago, governments agreed the Ramsar Convention on wetlands as an international treaty to stem the loss of the wetlands so critical to waterbirds and other wildlife. Many of the most important of the UK's wetlands have since been designated as Ramsar sites, but the report highlights that some of the critically important sites in our Overseas Territories and Crown Dependencies remain unprotected."
The State of the UK's Birds 2011 report is produced by the RSPB, British Trust for Ornithology (BTO), and the Wildfowl & Wetlands Trust in coalition with the UK Government's statutory nature conservation agencies — the Countryside Council for Wales (CCW), Natural England (NE), Northern Ireland Environment Agency (NIEA), Scottish Natural Heritage (SNH), and the Joint Nature Conservation Committee (JNCC), and can be read here.