Suffolk Little Owl 'too fat to fly'
fed467d4-6bf4-4902-86b2-89a1c2ce483d
A Little Owl, unceremoniously rescued from a Suffolk ditch as it was unable to fly, has been declared "extremely obese" by the Suffolk Owl Sanctuary.
The soggy owl was found in a ditch in the county in early January and, in these circumstances, wildlife rescue centres generally find that birds are carrying injuries, or occasionally have become waterlogged.
However, Suffolk Owl Sanctuary was surprised to find that it was in fact extremely overweight. Upon assessing the owl, a female, it weighed in at a rather chunky 245 g – roughly a third heavier than a healthy adult female Little Owl. It was unable to fly due to the large fatty deposits around its body.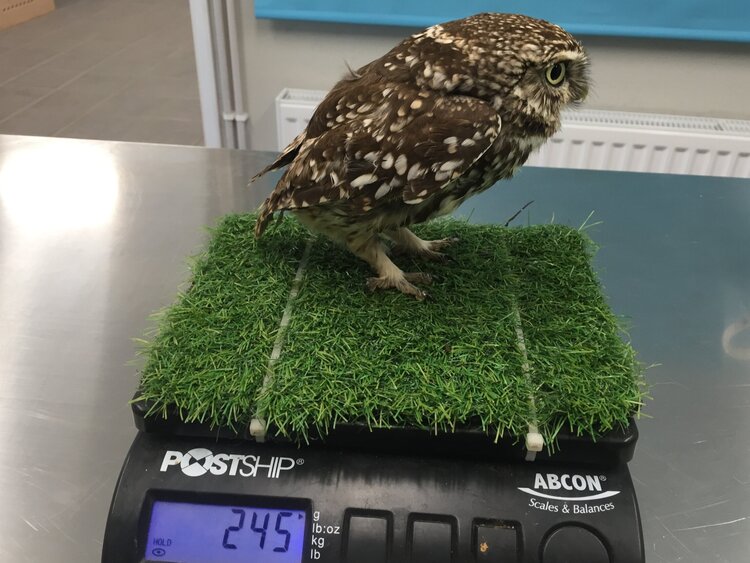 The Little Owl weighed in at a hefty 245 g – roughly a third heavier than a typical female of its species (Suffolk Owl Sanctuary)
It is extremely unusual for wild birds to get into this condition naturally, so the vets decided to investigate some obvious scenarios – the first being that it was possibly an escaped aviary bird. There was no indication of rings or chip identification, and asking around in the local area also didn't produce any leads.
They therefore decided to observe the rotund bird over a period of time for signs of a captive history – familiarity with 'artificial' foods used in aviaries, such as bright yellow chicks, can be a telltale sign. However, the owl didn't show any hints of previous confinement and has readily taken 'wild' food types, such as dark mice.
Suffolk Owl Sanctuary has therefore concluded that this is a rare case of natural obesity in a wild bird. After further investigation, the team also found that the area in which the owl was rescued was abundant with field mice and voles, likely due to the warm and wet winter experienced so far. It seems the owl had simply eaten so many rodents that it was no longer able to take off.
As a result, the burly bird was placed on a strict diet and has, the team were pleased to say, now trimmed down to a more typical weight for a wild Little Owl, meaning it can now be released.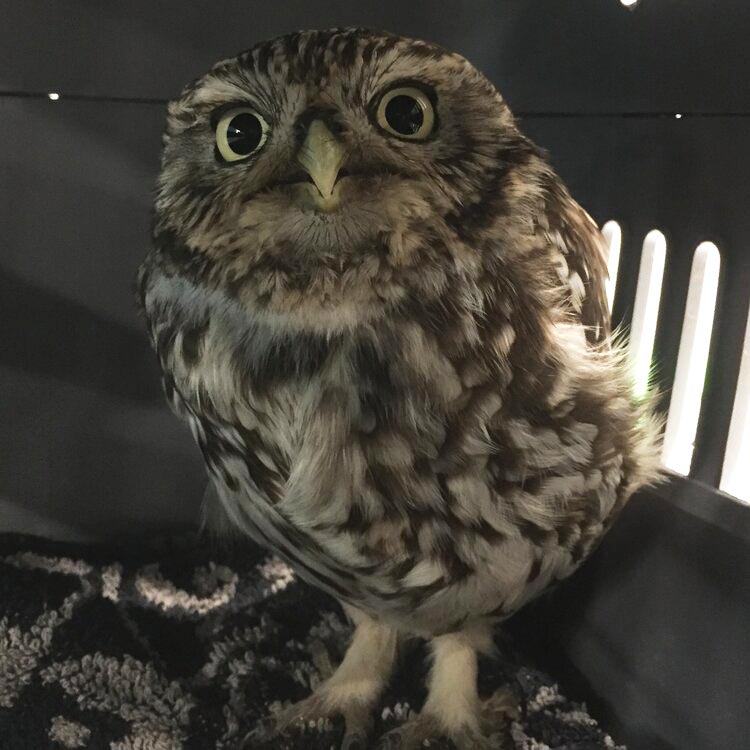 The Little Owl showing off its rather rounded figure while in care (Suffolk Owl Sanctuary).