Spanish birders set new European Big Day record
5ea4980a-234e-4c50-84e2-35449d0340cb
How many species can be recorded during a 24-hour race inside the Western Palearctic? A European record of 190 species was set by a Finnish team, on 25 May 1998, and record scores began to accumulate in the Spanish bird race organised by SEO/BirdLife, reaching 200 species by 2004 and 217 species in the 2007 race. This was the absolute best European record for the last 10 years.
During the most recent race in Spain, the European record was broken for the second time in 2017 by a team called Reservoir Birds, whose members – José Luis Copete, Ferran López and Franscesc Kirchner – scored a total of 230 species on 6 May in Catalonia province, though the score has only just been announced. The Zeiss-sponsored Spanish team had already participated in the Champions of the Flyway bird-race in March.
The team's race began just a few minutes after midnight on a Saturday, inland on the steppe areas near Lleida. Several species were almost immediately recognised by voice: Red-necked and European Nightjars: Barn, Little, Scops, Long-eared and Eurasian Eagle Owls; Common Quail, Eurasian Stone Curlew, Common Nightingale and a few other species – a promising beginning.
From there, the team drove north to the Pyrenees. They left the road to take a track up to the 2,000-m summit and flushed a Woodcock, a scarce species during the breeding season in southern Europe.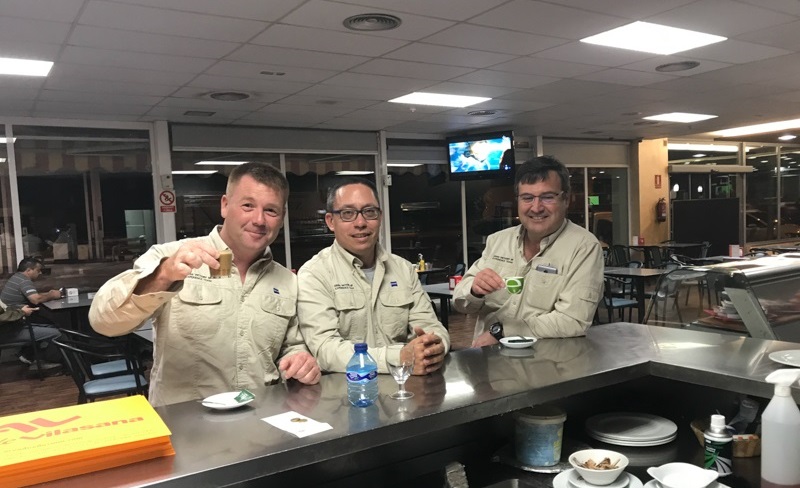 The Reservoir Birds prepare for the race minutes before setting out. Photo: Zeiss.com.
The team said: "At first light we quickly added species of alpine pastures and subalpine forests: Northern Wheatear, Water Pipit, Citril Finch, Ring Ouzel, Lammergeier, Golden Eagle, Black Woodpecker and Dipper, among other species only found in that area. We didn't miss any of the specialties [of] that area of the Pyrenees except Tengmalm's Owl, a species we didn't try [for] because some of the territories with singing males were not so close and needed valuable time.
"After the Pyrenees, we returned to the open areas of Lleida where quite a lot of specialties are concentrated: Orphean, Dartford, Subalpine, Bonelli's and Melodious Warblers; Corn, Ortolan and Cirl Buntings; Tawny Pipit, Lesser Spotted Woodpecker, Hen Harrier, Short-toed Eagle, Woodchat Shrike and many other species were recorded in a short walk, some of them allowing very good views. From there the, steppe areas of inland Catalonia provided specialties like European Roller, Great Spotted Cuckoo, Lesser Kestrel, Little Bustard, Black and Black-eared Wheatears, Dupont's, Short-toed, Lesser Short-toed and Calandra Larks, were some of the fine species seen during that part of the circuit.
"Then we headed to the Llobregat Delta, where we planned to stay [for] the whole afternoon. One of [this area's] strong points during a race is that you can seawatch from the coast at the same time as you can listen for wetland species – we actually recorded almost 70 per cent of the species at this spot.
The team says that during the next two hours a wide array of iconic species were seen from the beach, such as European Storm Petrel, Northern Gannet, Pomarine and Arctic Skuas and several gull and tern species. The marshes added many waders, ducks, passerine migrants and some bonuses: Hooded Crow – a pair breeds in the town of El Prat – a lone Barnacle Goose which arrived in winter and was still present the first week of May, and a solitary Marbled Teal, a rarity in the Llobregat Delta.
They felt that they had an impressive list at sundown, but didn't yet have time to know their exact tally. Even so, a singing Grasshopper Warbler was added almost at dusk and a lone Gull-billed Tern passed above them while we were running to the car. With night approaching, they still had time to add a last species which escaped us during the previous night: Tawny Owl!
It was after 9.30 pm when they got to Sant Climent de Llobregat, arriving quickly to a territory where the owl is normally vocal, but failed to hear it. It took nearly an hour and half to finally add this species, one hour before midnight.
Exhausted, but happy with that final species, the team finished the race returning to Barcelona to sleep.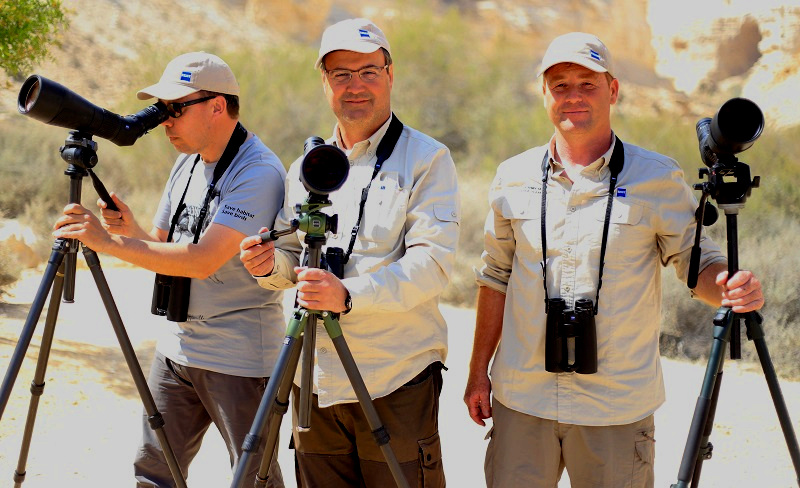 Braving the hot Spanish sun on the Llobregat Delta, where more than 150 speccies were tallied. Photo: Zeiss.com.