South-west chemical spill the worst for decades
90907af4-ebf8-4f99-afb8-964935f7a4ad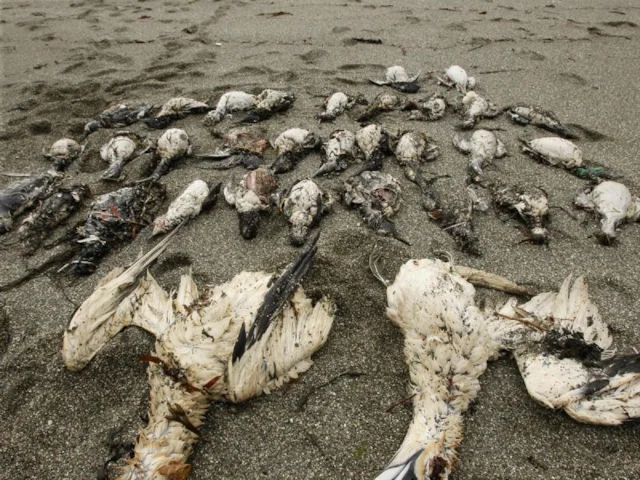 The latest figures reveal at least 2,900 birds have been affected by the polyisobutene (PIB) pollution in the English Channel, but the true total may be much higher.
Figures released today confirm that the number of birds affected in chemical pollution incidents off the South-West coast of England this year has passed 2,900. However, it is estimated that between three to 10 times as many seabirds die unrecorded at sea than are ever found ashore, so the true death tally must be much higher. Hundreds were found disabled but alive and were taken to RSPCA West Hatch wildlife centre in Somerset to be cared for. To date 18 species of birds have been affected, the majority (90 per cent) being Common Guillemot, but a number of Manx Shearwater, Puffins and Kittiwakes have also been collected.
The two major incidents in
February
and
April
left at least 2,400 birds dead on beaches, and over 500 taken into care, while the death toll exceeds the number of birds affected following the beaching of the MSC Napoli in Devon in 2007.
In the first incident in February more than 500 birds were affected by a substance identified as PIB. The majority came onshore in Dorset. Less than two months later many more birds were found on beaches in south-east Cornwall and south Devon affected by the same substance. In contact with seawater PIB becomes strongly adhesive, coating seabirds and severely restricting their movements and preventing them from feeding.
PIB, also known as polyisobutylene or butyl rubber, is a non-toxic and non- aggressive substance, used for example to manufacture chewing gum, adhesive tape and sealants. It is also very sticky - PIB is what makes cling-film stick to whatever it touches. In shipping, it is often used as a thickening agent for industrial lubricant oils.
The public has shown huge support for a ban on the discharge of PIB into the marine environment, and conservationists have urged the government urged to raise issue with International Maritime Organisation. Tony Whitehead, speaking for the RSPB, said: "This is one of the worst marine pollution incidents in decades, bringing to mind other disasters going right back to the Torrey Canyon in 1967. This is another a sobering reminder of the fragility of our marine environment and a wake-up call that we must work much harder to give proper protection to our precious sealife."
PIB-affected seabirds were reported to the various NGOs involved by the general public and others. From 20 April, the Environment Agency, at the request of the Environment Group convened by the statutory organisations that are responsible for responding to marine pollution incidents, took on the role of collating (and de-duping where necessary) reports received. Detailed records on live birds taken into welfare care and their subsequent response to treatment were kept by the RSPCA and the South Devon Seabird Trust.
Adam Grogan from the RSPCA said: "The dumping at sea of this lethal chemical must be stopped. It was heartbreaking enough after the first incident in February to see so many birds arrive at our centres in such a poor state. The sticky substance coated their feathers and made it difficult for them to feed and move, so staff had to work around the clock to wash it off and get them fit enough to survive in the wild again. For it to happen twice in quick succession is inexcusable and unacceptable."
Wildlife charities are calling for the discharge of PIB into the sea to be banned, believing that the risk of PIB to the marine environment is seriously underestimated under current regulations. Whitehead continued: "It's of great concern that you can still legally wash PIB residues out of ships' tanks at sea. We want a complete ban on any discharges of PIB and for ships to be required to remove residues safely at port. This removes the risk of any legal or indeed illegal discharges of this seabird killer."
There has been huge public support for a ban on the currently legal discharge of PIB. The
38 Degrees
and
Avaaz
petitions have a combined total of more than 20,000 signatures so far. Campaigners are urging the Secretary of State for Transport to formally raise the issue with the International Maritime Organisation, the body responsible for the regulation of shipping worldwide.
Content continues after advertisements