Short-eared Owls found shot in Co Durham
4b02e7d9-6922-4c4b-85f9-c295c3d24c2c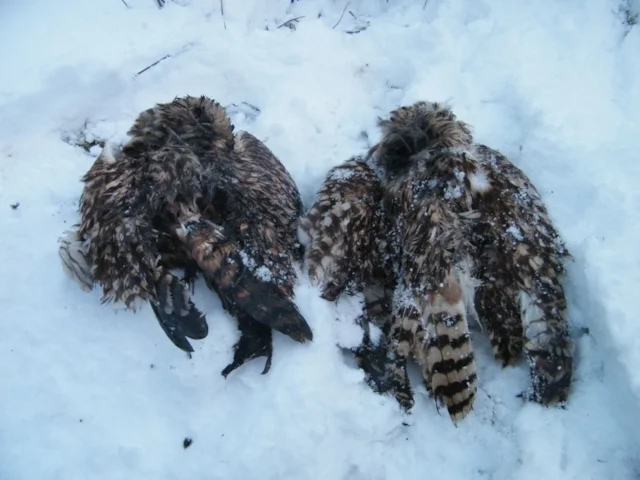 Durham Police and the RSPB are appealing for information following the shooting of two Short-eared Owls in March this year.
Found by a member of the public, the dead
owls
were pushed into a pothole near Selset Reservoir in Co Durham. They were recovered on 2 March 2015 and sent for a post mortem examination, where it was confirmed that both birds had been shot.
Short-eared Owls are fully protected under The Wildlife and Countryside Act 1981. The maximum sentence for the illegal killing of a wild bird is six months imprisonment and/or an unlimited fine. The species can frequently be seen hunting in broad daylight as well as in the early evening. They live mainly on a diet of small mammals such as voles, and the main wintering numbers are just beginning to arrive in Britain from Scandinavia.
To attract a mate, the males perform dramatic sky-dancing displays over open moorland, accompanied by wing clapping to alert females of their presence. The breeding range of Britain's Short-eared Owl population has shrunk in recent years, though the reasons for this are not fully understood.
Police Constable Garry Dunn from Barnard Castle Police said: "Whoever is responsible for shooting this pair of Short-eared Owls has committed a criminal offence. Short-eared Owls are protected by law and therefore the RSPB, in conjunction with the police, will investigate such reports in a robust fashion with the intention of bringing those responsible to justice."
Alan Firth, Investigations Officer with the RSPB, said: "This is a disgraceful act against these beautiful owls. There are concerns about the breeding population of this species, and there is evidence that they are subject to persecution. Given their primary prey are small mammals, it is difficult to understand why."
Anyone with information about who is responsible should contact the police immediately on 101.
Content continues after advertisements