Shock at second bird of prey poisoning in West Country
2bf8e4f2-a2a6-4621-85d9-dc2aea604836
Devon and Cornwall Police and the RSPB are again appealing for information following confirmation this week that two Peregrines found dead near St Just had been poisoned with the banned pesticide carbofuran. The RSPB is offering a reward of £1000 for information leading to a conviction.
The birds, male and female, were found by a member of the public at midday on 21st July having been seen alive just hours earlier hunting near their cliff-side nest. Following the discovery, Natural England's Wildlife Incident Investigation Scheme (WIIS) were notified and began an investigation. The bodies were sent for analysis and it was confirmed on Tuesday that both had high levels of carbofuran and that this had caused their deaths. This follows the news last week that four Goshawks and one Buzzard found dead in Devon in March had similarly been poisoned with carbofuran.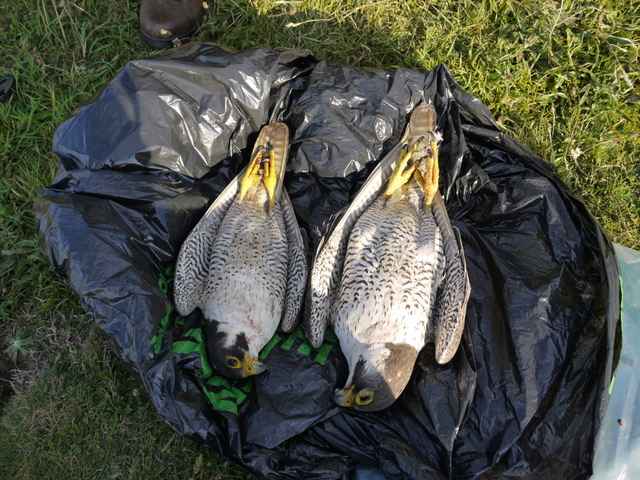 The two Peregrines found dead near St Just (RSPB).
Dr Elaine Gill, Natural England's Regulation Team Leader in the South West, said: "The use of illegal chemicals like carbofuran poses a significant threat to our wildlife and environment — in this case, causing the needless death of two Peregrines after they ate bait laced with poison. Peregrines receive special protection under the Wildlife and Countryside Act (1981) and poisoning them is an offence, as is the possession or use of carbofuran, which has been banned for more than a decade. We treat such incidents seriously and will continue our work with other enforcement agencies under the Wildlife Incident Investigation Scheme to tackle incidents like this."
PC Jack Tarr, Wildlife Crime Officer in Cornwall, and a keen birdwatcher who has been involved in monitoring peregrines for 12 years, said; "That these magnificent birds should be killed in this way is truly shocking. This was a pair I'd regularly enjoyed watching myself, hunting off the coast at St Just and I know they were popular with many other people who walked the cliffs there. We need to find out who did this and bring them to justice."
Tony Whitehead, spokesperson for the RSPB in the Southwest, said: "To have confirmed two bird of prey poisonings in as many weeks is unprecedented. We know that Devon and Cornwall have always been persecution black spots and this year looks as though it might be one of the worst on record. We need to stop this. Whatever drives people to do this, it's important to understand that killing birds of prey is not only barbaric, it is also against the law. This makes the perpetrators, however they seek to justify their behaviour, no more than common criminals and we'd expect them to be treated as such."
Anyone found guilty of an offence against birds of prey can be liable to a fine of up to £5000 (per offence) or to imprisonment for a term not exceeding six months, or both. If anyone has information regarding this they can call Crimestoppers on 0800 555 111 or telephone 101 quoting crime number AP/11/1922. Alternatively, the public can contact the RSPB on 0845 466 3636. All information is handled in the strictest confidence.