Second Hen Harrier disappears in Wales
df77b89e-5e03-49ad-90c2-053fd4c02aba
A second satellite-tagged Hen Harrier has gone missing near Wrexham within a six-month period. North Wales Police and the RSPB are appealing for any information following the suspicious disappearance of Heulwen, a female that was tagged at a nest in Gwynedd in June.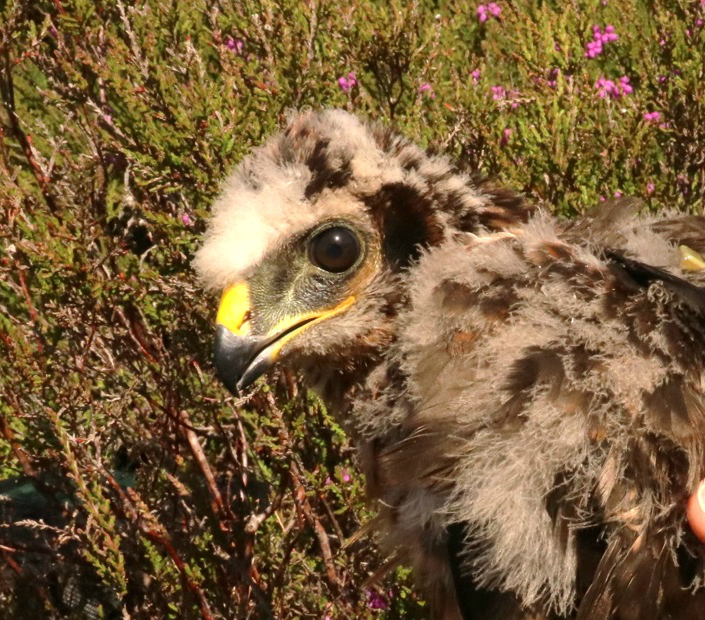 Huelwen (pictured) was born in June this year, and fitted with a satellite tag at the nest (Guy Anderson/RSPB).
Having left the nest site, the young harrier travelled through north Wales and across Snowdonia, east towards Wrexham. Until 29 August the satellite was operating normally, providing frequent updates on the bird's movements, but it suddenly stopped working when it reached the vicinity of Ruabon Mountain.
Content continues after advertisements
The RSPB searched unsuccessfully for Heulwen, before reporting the disappearance to North Wales Police, who are now conducting enquiries and appealing for anyone with information. This is the second bird to have vanished in north Wales in six months, after the loss of Aalin, another female, in February. Dr Cathleen Thomas, Project Manager for the RSPB's Hen Harrier LIFE project, said: "Just a few weeks ago we were celebrating the breeding success of Hen Harriers across the UK, but already these young chicks are disappearing in suspicious circumstances when they are just a few months old.
"It's devastating for those of us involved in watching and protecting these chicks, and a serious blow for an endangered species that continues to decline. While we don't yet know what has happened to Heulwen, we do know that the main factor limiting the Hen Harrier population in the UK is illegal killing associated with intensive management of driven grouse moors."
Rob Taylor, Rural Crime Team Manager, North Wales Police, added: "The loss of this Hen Harrier is very concerning and we are keeping an open mind at this time in regards to this enquiry. Our Rural Crime Team are working closely with the RSPB in relation to the investigation and we are appealing to the public that if you have any information then to call 101 or report confidentially via Crimestoppers."