Scottish schoolkids encouraged to go eagle-watching
1589a24d-b7fb-4dda-807e-57aac7531571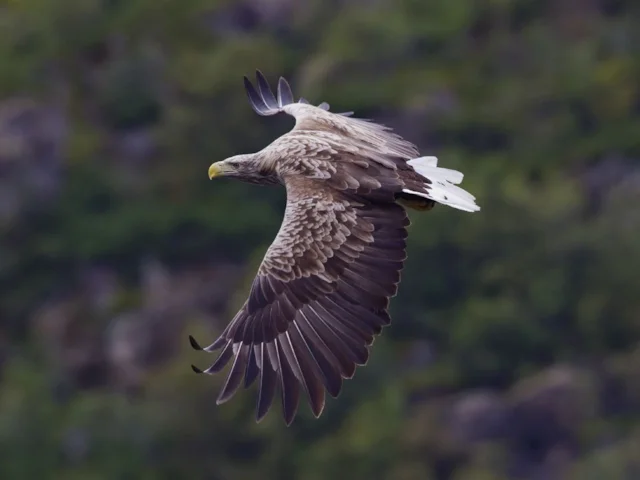 A group of schoolchildren from Carinish in North Uist, Outer Hebrides, enjoyed spectacular views of White-tailed Eagle on an RSPB boat trip.
They were among more than 70 people who participated in recent outings from Lochmaddy, North Uist, which took them into the territory of a breeding pair of White-tailed Eagles, or 'sea eagles' as they are popularly known.
Jamie Boyle, site manager of the RSPB's Uist reserves, said: "Terns, auks, gulls and divers were all seen, but the highlight of the trips was definitely the local sea eagles! They were first spotted perched on a vantage point overlooking the bay. The schoolchildren threw bread into the water to attract gulls, and this in turn attracted the eagles.
"Two of them came over the boat to see what all the commotion was about, and at this point a large Pollack was thrown into the water. After circling half a dozen times the female eagle came down and picked up the Pollock, then headed to the shore to devour it. It was quite a sight!"
The impressive raptors, which were a familiar sight throughout Britain for thousands of years, were hunted to extinction by 1918. In 1975, White-tailed Eagles were re-introduced to the Isle of Rum and since then their population has grown slowly.
The first pair for almost 100 years appeared in Lochmaddy Bay, North Uist in 2003. Since then they have produced 15 chicks, which have gone on to breed on other islands including Skye and Lewis.
White-tailed Eagles is the only eagle in Europe that regularly eats fish. The species is viewed as the 'pirate of the loch', and gets most of its fish by forcing other species, especially Northern Gannet, to give up its catch.
The Lochmaddy pair have learned to follow fishing boats in the hope of discards being thrown over the side. This behaviour was encouraged by the late Dr John MacLeod, who regularly went out in his boat and threw fish for the eagles. The RSPB is pleased that so many more people can now enjoy seeing the birds in their ancestral home here in the Western Isles, and that young children are being encouraged to get out on the waves and see them for themselves.
Content continues after advertisements