Scottish Government renews commitment to wildlife crime prevention
78ed8ab3-50ad-46c0-ae60-80e3f8e30e3d
The RSPB has applauded Scotland's renewal of its commitment to pursue criminals who illegally persecute birds of prey.
RSPB Scotland has responded to the release of the Scottish Government's Wildlife Crime Report with the conservation organisation's Head of Investigations, Ian Thomson, saying: "RSPB Scotland welcomes the publication and commends its ongoing commitment to tackle crimes that continue to impact on the populations of some of our rarest species, threatening both our natural heritage and our country's reputation.
"We also commend the strong comments made by the Cabinet Secretary for Environment, Climate Change and Land Reform [Roseanna Cunningham MSP] in launching this report, and agree with her sentiments that the results of the review of the disappearance of satellite-tagged birds of prey, to be published next year, will be of significant interest.
Content continues after advertisements
"The report makes sobering reading, all the more so when you appreciate that the published figures of detected crimes only represent a fraction of what is actually going on in our countryside, given the very low chances of criminal activity being uncovered, the lack of potential witnesses in remote areas and the ease in which the perpetrators can conceal evidence of crimes.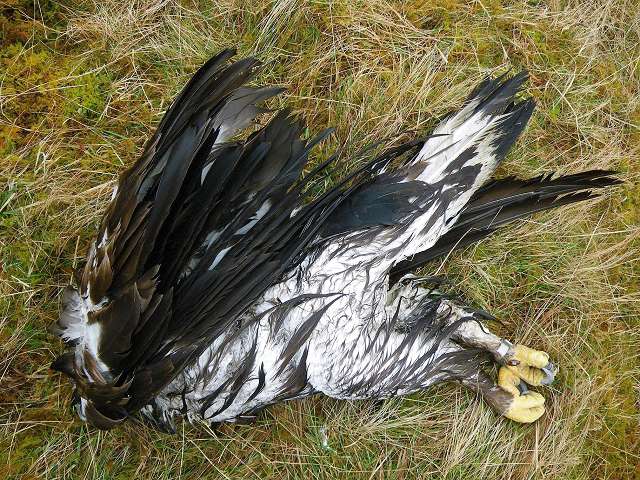 This Golden Eagle was found illegally killed at Bridge of Orchy, Argyll, in 2012 (Photo: RSPB Scotland)
"With regard to raptor persecution incidents, we recognise that a number of confirmed victims of crime are not included in the report as police investigations continue. However, the figures published again illustrate that criminals continue to target iconic species such as Golden Eagle, Peregrine Falcon, Hen Harrier and Red Kite.
"The distribution of crime victims, many population studies and repeated scientific analyses of data clearly indicate that in those areas where intensive gamebird management takes place, criminal targeting of protected species remains a systemic problem. It is also apparent that despite improved legislation the lack of regulation of the gamebird shooting industry is failing to address this significant issue. We repeat our call on the Scottish Government to introduce a robust system of licensing for gamebird shooting, where the right to shoot is dependent on legal and sustainable management practices."