Scottish gamekeeper fined £2,000 for buzzard killing
877ebd17-1f7e-4aa5-bdf1-8fd05b74556b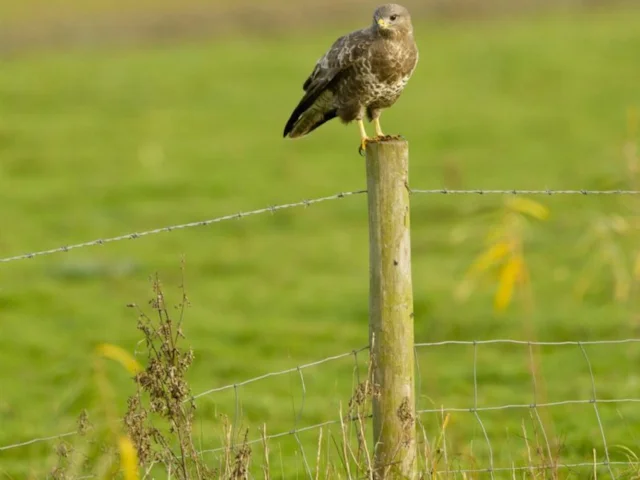 RSPB Scotland has responded to the sentencing of a convicted buzzard killer, who threw rocks at and stomped on the injured bird.
On 4th August 2015 at Dumfries Sheriff Court Mr William Dick, 25, a gamekeeper from the Newlands Estate, Dumfriesshire, was found guilty of the killing and possession of a Common Buzzard in April 2014. Yesterday (2 September 2015) he was fined £2,000 for these offences. Dick's firearm licence was also revoked, though this is likely to be appealed. The maximum fine for these offenses is £5,000 and/or a six-month prison sentence.
In April 2014, Dick was seen throwing rocks at a Common Buzzard flailing on the ground after two witnesses had heard gunfire. Dick then repeatedly stamped on the bird, eventually killing it. He then was seen wrapping it inside a coat and putting in a vehicle, before driving away. Feathers and a blood-stained rock were later retrieved from the scene by police – the blood rock was subsequently shown to have come from a Common Buzzard by DNA analysis.
The Newlands Estate is reported to be currently undergoing a
vicarious liability
case under Scottish law. The estate is a member of Scottish Land and Estates, according to the
Raptor Persecution Scotland
organisation, and is "an accredited member of ... [the] Wildlife Estates Scotland initiative 'that aims to promote the best game and wildlife management practices'. The estate's membership has allegedly now been suspended "voluntarily" post-sentencing.
Commenting on this Ian Thomson, RSPB Scotland's Head of Investigations said: "We welcome this conviction and hope that this latest sentence shows that our courts take these outdated crimes seriously.
"It is unfortunate that buzzards are regularly vilified by some sectors of the gamebird shooting industry, despite them only just recovering after decades of persecution. While scientific evidence shows they have a minimal impact on released Pheasants, the cruel actions of Mr Dick are symptomatic of a continued Victorian attitude towards birds of prey, one that all too frequently leads to them being illegally killed.
"We commend the prompt actions of the witnesses in reporting this incident, the rapid follow-up carried out by Police Scotland and Scottish SPCA, and the work of Procurator Fiscal Kate Fleming in securing this conviction. We note the Sheriff's comments when sentencing Mr Dick that his actions were 'to further the interests of your employer'."
Content continues after advertisements