Scotland's first-ever Puffin Fest in May
6d249486-b461-4842-bdd6-8265b0bbe45a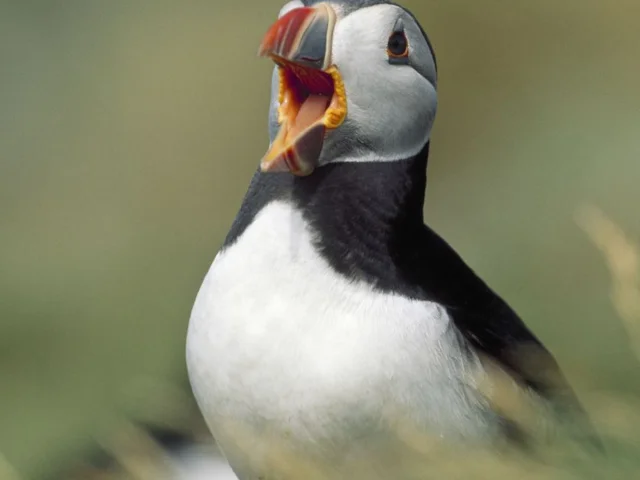 The Scottish Seabird Centre near Edinburgh will launch the inaugural Puffin Fest on 16 May, opening a fun-packed event to celebrate the 'clown of the sea'.
The festival is just a week after
Scottish Birdfair
(10-11 May)
and is the first of its kind in Scotland. It will take place at the East Lothian centre from Friday 16 until Monday 26 May 2014.
Scotland's much-loved Puffins are currently cleaning their burrows to prepare for the new breeding season. The islands of the Firth of Forth, including Craigleith, Fidra and the Isle of May, are home to around 90,000 of the popular auk species. Puffin Fest aims to inspire both locals and visitors alike to learn more about the threatened seabird species, while also highlighting the importance of conserving and protecting them for future generations.
Throughout Scotland over the last few years,
Puffins have suffered from lack of food
, ferocious storms and flooded burrows. Some of these issues appear to be linked to climate change. On top of this, the invasive alien plant species Tree Mallow has decimated
Puffin
populations on islands just offshore from North Berwick. Interestingly, at other seabird sites to the south, Tree Mallow has been used to successfully shelter the nesting sites of Roseate Tern, another even more threatened British seabird species.
Tom Brock OBE, Chief Executive of the Scottish Seabird Centre www.seabird.org, said: "Puffins are one of the world's favourite and most distinctive animals. Scotland's first ever Puffin Fest will celebrate their homecoming in an exciting 10 days of activities. The programme will feature something for everyone, so whether you are a family looking for a fun day out or you are a wildlife or photography enthusiast, Puffin Fest will have something for everyone!
"Puffin Fest will also be an opportunity for people to appreciate and understand the importance of looking after Scotland's rich variety of seabirds and marine life, and how they can help. There will be an inspiring festival programme and we are looking forward to welcoming lots of people to North Berwick this May."
The 10-day celebration of all things Puffin will offer opportunities to spot the birds in their natural habitat via specially commissioned 'Puffin Express' boat trips, as well as using the Discovery Centre's amazing interactive live cameras which are controlled by visitors. There will be a wide range of events including a Puffin Trail through the Centre; Puffin Picnics and Parties; arts, crafts and storytelling activities for all ages; plus the chance to meet wildlife experts who will share insights into the life of this distinctive seabird.
A full programme for the festival will be announced soon.
Content continues after advertisements