Scilly Walrus served eviction notice
c03890bb-fed7-4f02-9c7c-b092328a6253
Boat owners and visitors to the Isles of Scilly have been advised to deter the resident Walrus from attempting to board their vessels.
In a statement issued by the British Divers Marine Life Rescue (BDMLR), the Walrus is said to have "caused thousands of pounds worth of damage" since it arrived in the Isles of Scilly on 17 June, adding that "his presence in a commercial harbour within an island community is posing huge risks".
A contingent of organisations, including BDMLR, as well as Isles of Scilly Wildlife Trust, Natural England and the RNLI, has decided that the Walrus needs to be discouraged from spending time in Hugh Town harbour "to prevent his own injury and further damage and risk to people and property", explaining that "people should expect to see a variety of approved humane deterrent methods being progressively and systematically employed".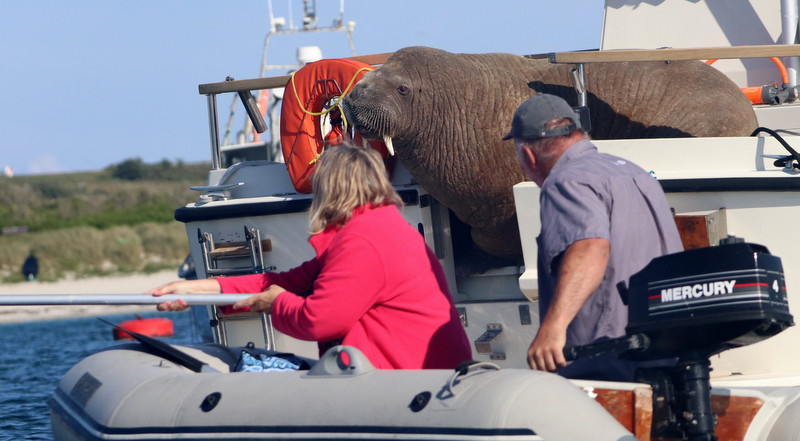 The Walrus has made a habit of boarding boats during its stay in the Isles of Scilly, and has already sunk several smaller vessels (Kris Webb).
It has not yet been revealed what all of these deterrents will be, although airhorns may prove futile – after initially showing response to these during its prolonged stay on the RNLI Lifeboat slipway at Tenby, Pembrokeshire, earlier in the spring, it became accustomed to them and ended up not reacting at all. One method that has been approved for use is the playback of Polar Bear vocalisations.
Passive, non-contact techniques have been recommended to stop the animal from boarding boats. These include the use of temporary barriers or paddles, or moving boats to places where he cannot access.
While some individuals have suggested relocating the Walrus back to the Arctic, such efforts are not warranted on the basis that it is an extremely difficult and potentially dangerous option to try something with such a hefty animal.
The Walrus was first seen in western Europe on 14 March 2021, when it was filmed sleeping on rocks at Valentia Island, Co Kerry. It first appeared in Pembrokeshire a week later, eventually settling in the Tenby area on 28th and lingering there for almost two months.
There was a sighting in Cornish waters on 19 May, before it reappeared in France at Saint-Gilles-Croix-de-Vie, on the coast south-west of Nantes, on 26th. After a couple of days at La Rochelle on 28-29th, the Walrus was next seen at Bilbao, Spain, on 5 June. It was then observed at Santander on 7th, before reappearing in the Isles of Scilly 12 days later, where it has remained ever since.