Scilly birding celebrates major milestones
d4cb3107-30a4-473a-8c46-679862fb987e
The Isles of Scilly Bird Group (ISBG) is celebrating its milestone 20th anniversary this autumn, in a year which produced the archipelago's landmark 450th bird species.
Should the well-documented Zino's Petrel be accepted by the British Birds Rarities Committee (BBRC) and added to the British list by the British Ornithologists' Union's Records Committee (BOURC), it will mark the latest illustrious addition to Scilly's bird list – other recent highlights have included Royal Tern and Belted Kingfisher in 2018 and Eastern Orphean Warbler in 2017, the latter of which was also a British first. Scilly will then sit in the 'top five' of all British county lists, despite its relatively tiny size.
Will Wagstaff, President of the ISBG and top Scilly lister, said: "It has been an honour to be President of the ISBG since its inception 20 years ago. In this time, the Review has become one of the premier bird reports in the country, for which all involved deserve high praise. Scilly provides a temporary home to a wide range of species, both rare and common, continually bringing us to the birding world's attention. Species such as Zino's Petrel, Eastern Orphan Warbler and Cedar Waxwing capture the headlines, let alone Great Blue Herons!"
Zino's Petrel is one of the world's rarest birds, with an estimated 60-100 pairs breeding on Madeira. Just 12 birders saw the now-famous Zino's as it cruised past the MV Sapphire on the evening of 30 July. Bob Flood, international seabird expert and finder of the Zino's, has been on around 850 pelagic trips off the Isles of Scilly over the last 30 years. He said: "Zino's Petrel undoubtedly is the ultimate reward. To see this critically endangered Pterodroma in Scillonian waters is nothing short of sensational. Have I dreamt about seeing Zino's Petrel off Scilly? Yes, of course. Did I believe the dream could come true? No, not really. I can't think of a more fitting bird to take the rostrum as the 450th species recorded on and around our most special archipelago."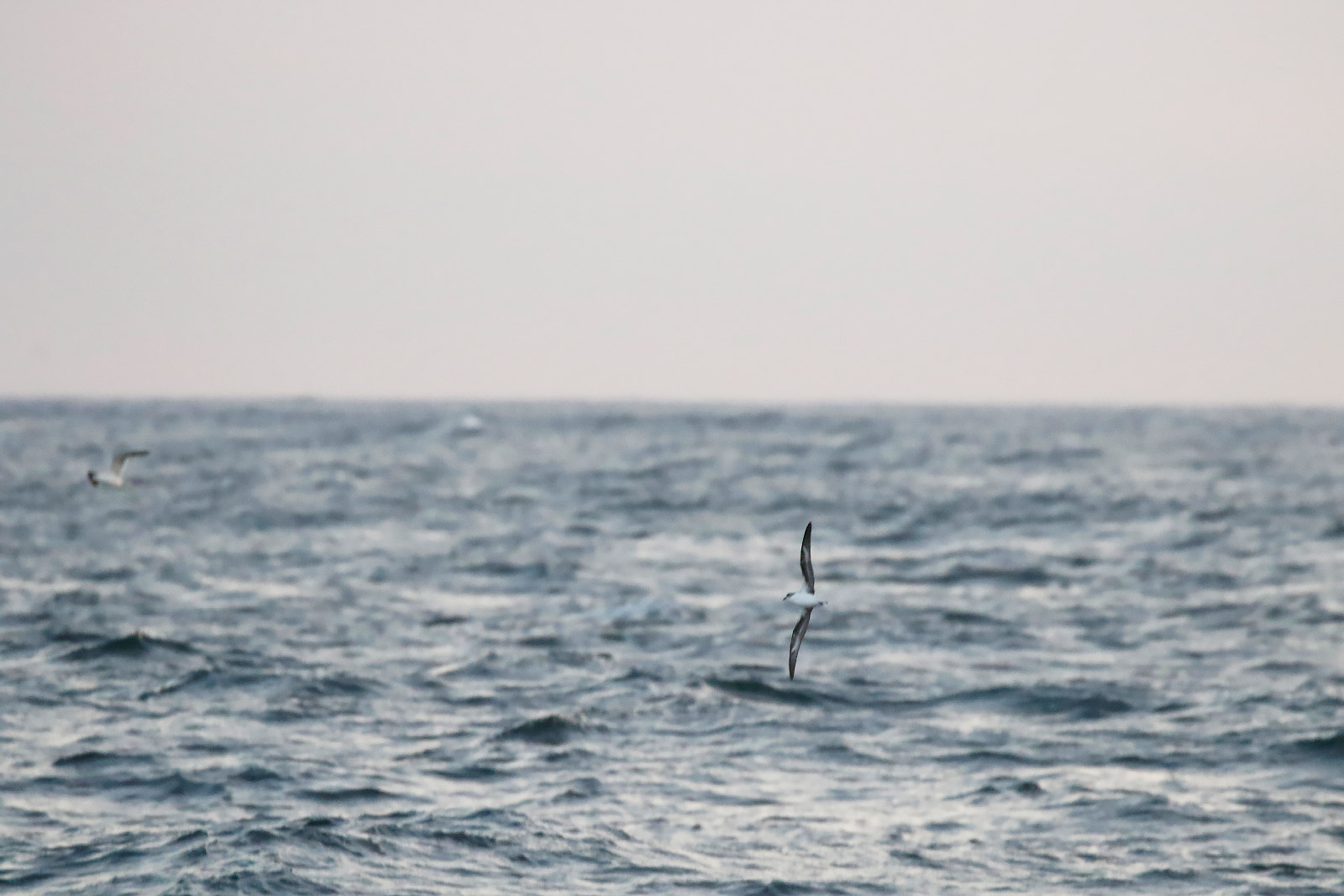 The Zino's Petrel seen at sea off the Isles of Scilly on 30 July 2020 will become the 450th species recorded in or around the isles if accepted (Danni and Zac Hinchcliffe).
The ISBG was formed in 2000 to represent and promote the interests of a growing number of resident and visiting birders. They are commemorating the occasion with a special 20th edition of the renowned Isles of Scilly Bird and Natural History Review (272pp; RRP £15). In addition to the annual array of beautiful photographs and artwork, species write-ups, annual reports on bird ringing and seabird monitoring, and a full bird checklist, highlights include a generously illustrated report of the last 20 years of Scilly birding, by Will Wagstaff; new maps by Ren Hathway, featuring many more locations of interest to birders; plus finders' reports on Western Subalpine Warbler, Savi's Warbler, Blue Rock Thrush, Black-and-white Warbler, Brown Shrike and Hermit Thrush.
Carole Cilia, editor of the Isles of Scilly Bird and Natural History Review for the past five years, said said: "We work as a collective; it is a joint effort sharing a multitude of skills. This is our fifth review with the present editorial team, which has tremendous support from writers, artists and photographers – all of whom give their work free of charge. We are so lucky to have such expertise in terms of knowledge of species."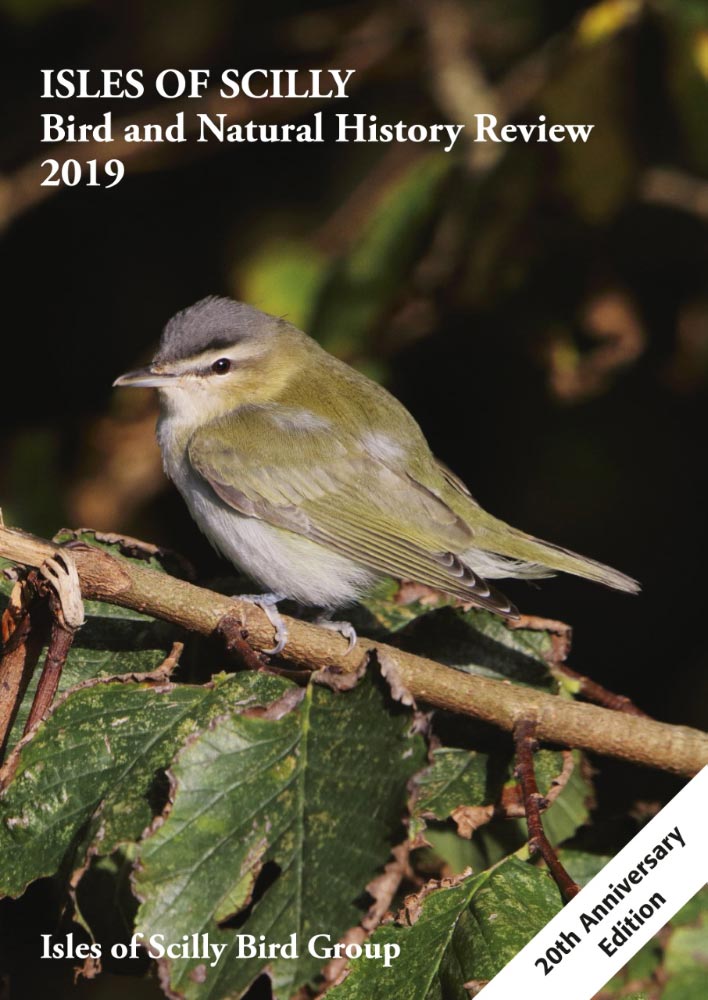 The Isles of Scilly Bird Group's Bird and Natural History Review for 2019 is now available to purchase, but also comes free with an Isles of Scilly Bird Group membership. Click here for more details.
As well as covering birds, the Review is renowned for comprehensive reports of other wildlife, including cetaceans, seals and other sea creatures; butterflies, moths and other insect groups; bats and other mammals; and plants.
Content continues after advertisements
Carole continued: "My favourite aspect of producing the Review is that it encompasses and records all wildlife on the islands, not only birds. Each year I wonder if we will be able to top the previous year and I am always surprised at how varied the topics are. Next year we have two huge systematic lists on bees of Scilly and fish in Scilly waters that were supposed to go in this issue, but even adding another 16 pages we couldn't fit them in!"
Looking forward to the next 20 years, Bob Flood is hopeful that wandering seabirds will deliver even more kudos for the Isles of Scilly. He said: "The ocean may yet deliver further seabird surprises for the Scilly list. Just like Zino's Petrel, I feel a close connection with Bermuda Petrel – though to see both off Scilly is perhaps pure fantasy. Or perhaps not? When it comes to Scilly, anything is possible."
Will adds: "There are still a few species I would like to see here, ranging from Eurasian Jay to Smew, and it's about time Stilt Sandpiper was added to our list. As ever, it's all about being out in the field, in the right place, at the right time. Sadly, being sat at home when a Zino's Petrel flies by out at sea means I'm not going to be adding that one to my list!"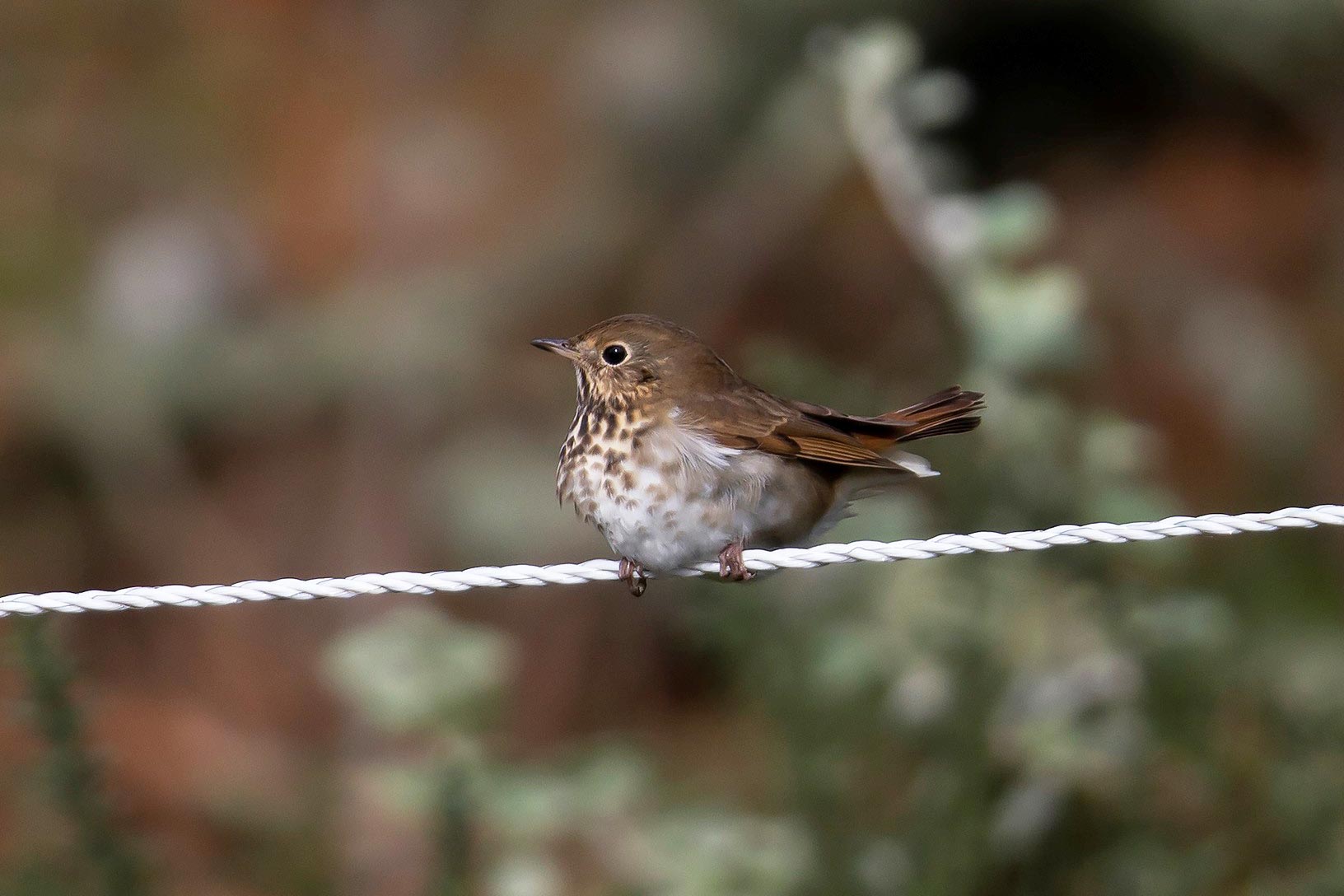 Despite the ongoing coronavirus pandemic, the Isles of Scilly is open to visitors this autumn. Birders will be hoping for plenty of Nearctic vagrants, like this Hermit Thrush (Joe Pender).
Despite international travel facing ever-changing restrictions, the ISBG is looking forward to welcoming familiar and new faces safely to the islands this autumn. Despite restrictions, there's still plenty to see and do, including exploring the local trails that farmers kindly open for birders; boat trips to the Western Rocks, Eastern Isles and Norrad Rocks; trails and migration hot-spots on all of the inhabited islands, including the birdwatching hides on Tresco; and pelagics aboard MV Sapphire.
However, due to Covid-19, this will be the first season in over 45 years that there has not been a Bird Log called on St Mary's, and the hides on St Mary's will remain closed.
For more information on birding this autumn on the Isles of Scilly, please visit scilly-birding.co.uk and check Visit Isles of Scilly for tourist information.