Satellite-tagged cuckoo returns to Scotland for third year running
a3d14ce6-6d4c-4984-967b-52a9fc94be97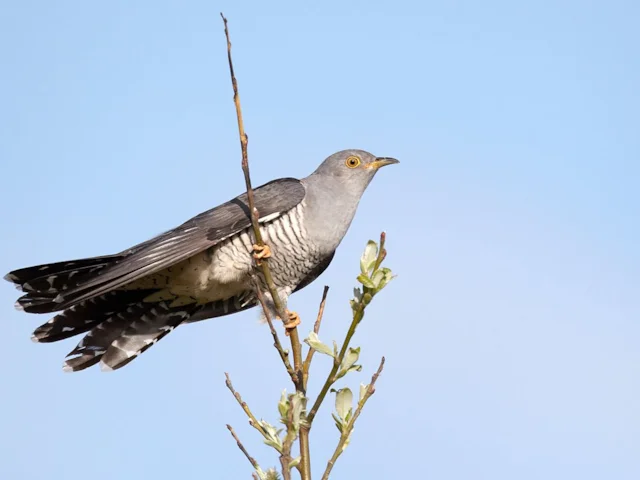 A British Trust for Ornithology (BTO) Cuckoo named 'BB' has returned to the shores of the Loch Katrine, Stirlingshire, for its third summer.
Scientists from the trust first tagged the bird in spring 2012 in order to understand why Scottish Common Cuckoos are doing so much better than their relatives down in England. The tagging was part of a wider project in Britain to help figure out what might be driving
the declines of this iconic species
. The BTO are currently following nine satellite-tagged Common Cuckoos, three of which have returned to Scotland,
three to East Anglia
, one to Wales,
one to Dartmoor
and one which is lingering in Spain. All of the birds can be followed at
www.bto.org/cuckoos
.
BB, named by the journal British Birds, arrived safely back at Loch Katrine on May 2nd. It spent the winter in the Congo rain forest, and travelled around 5,000 miles through West Africa, Spain and France to get back to its natal loch. Since the tag was first fitted, it has travelled a whopping 18,000 miles and logged a route that took him across the North Sea to The Netherlands and onto Africa, via Germany, Austria and Italy, making landfall in eastern Libya. It was thought previously that Common Cuckoos avoided long flights over sea, but BB's North Sea crossing saw him making a 300 mile-flight coast-to-coast.
BB isn't the only Scottish satellite-tagged cuckoo. Two others – Waller and Livingstone – are also back at the sites where they were first tagged in spring 2013 – in the Kinloch Hills, Isle of Skye, and Loch Lain Oiag, Highland, respectively.
Ben Darvill of BTO Scotland commented: "We're proud of our Scottish cuckoos. While it's sad to know that English cuckoos are not doing so well, hopefully the Scottish birds can help us to understand why. To be able to follow these birds once they leave Scotland is remarkable. Their satellite signals continue to give us new information – BB and Waller both take a very similar route to the Congo, but Livingstone leaves the UK via the south coast, near the Isle of Wight – one of the narrowest crossing points on the Channel – only to spend the winter months close to the other two birds."
Learn how to age and sex Common Cuckoo in the field, as well as separate it from Oriental Cuckoo, a potential vagrant to our shhores, with the new issue of
Birdwatch
out now. To see where these Cuckoos are right now, please visit
www.bto.org/cuckoos
.
Content continues after advertisements