Sand Martins to benefit from 400-tonne 'giant sandcastle'
07305248-103b-4980-9b44-6b8d99576b2c
A 400-tonne 'giant sandcastle' has been built in Surrey in an attempt to attract nesting Sand Martins back to a site where they have been absent as a breeder for 25 years.
The structure has been built at Spynes Mere, part of the Nutfield Marshes Surrey Wildlife Trust reserve at Holmethorpe SP. James Herd, project manager at Surrey Wildlife Trust, said: "Sand Martin numbers have plummeted twice in the last 50 years as a result of droughts in their wintering grounds in Africa.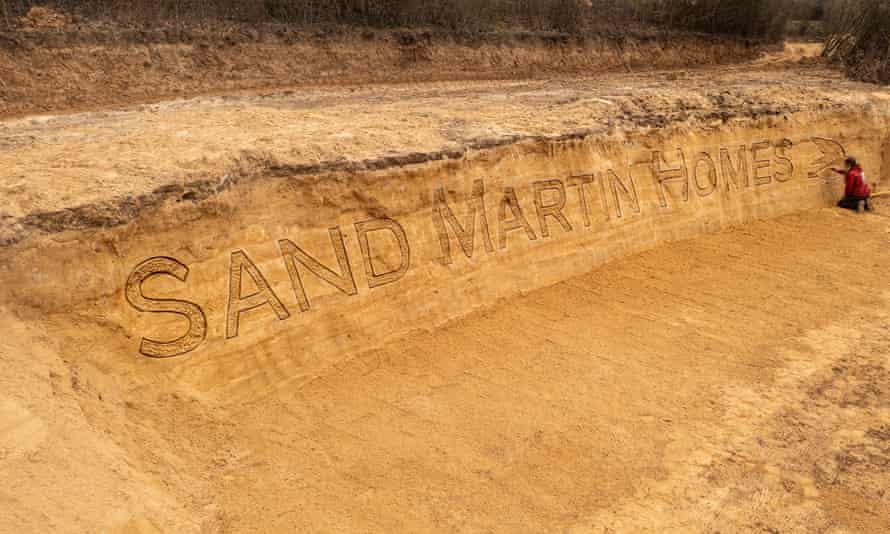 The Sand Martin nest bank at Nutfield Marshes (Surrey Wildlife Trust).
"In the UK, the natural nesting inland habitat along riverbanks has decreased as rivers pass through more urbanised areas and under roads, and quarrying has ceased. So creating this nest bank is important to protect them against the boom and bust nature of their nesting sites and give more security for the population to expand."
The structure was originally created from a restored sand extraction site. To create the nest bank, in a method similar to using a bucket and spade on a beach, Surrey Wildlife Trust worked with sand sculptors from Sand in Your Eye to build several test sandcastles in mid-January before beginning the main construction in February.
The landowner, Sibelco, supported the conservation project by clearing the site of scrub and offered to supply extra personnel, diggers and dumper trucks for the build. New vertical faces carved out at the site will provide 100m2 for Sand Martin homes, as well as a habitat for insects such as solitary wasps and bees, Surrey Wildlife Trust said.
Up to a metre of the sandbanks will be shaved off the face annually to cut down on nest parasites; after five or six years, sand will be recycled to rebuild the bank so that it can provide a lasting home for the birds.