Sale of wild Greylag meat to be allowed on Scottish islands
0de206ce-69bd-408a-976b-c3af16196b12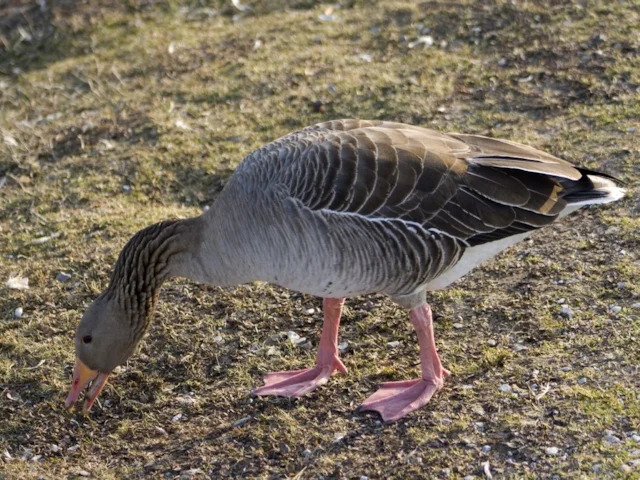 Scottish Natural Heritage (SNH) has confirmed that it will allow the sale of wild Greylag Goose meat at licensed outlets in the Uists, Outer Hebrides.
SNH say that the scheme will help local businesses and reduce waste. The numbers of resident wild
Greylag Geese
– Britain's only genuinely wild breeding goose species – have expanded rapidly over the years from 1,171 in 1986 to 9,500 in September 2012, and they cause significant damage to crops, presenting difficulties for crofters and farmers in some localities.
Work to control the resident goose population is being trialled in Scotland on the Uists, Orkney and Tiree, where the Greylags are derived from Britain's huge feral population, the long-term goal being to minimise agricultural damage while maintaining a viable goose population. Selling geese shot as part of this management will help generate important income for the local community and help pay for some of the work.
Now the Uist project will introduce the sale of Greylag Goose meat to encourage its sustainable use under the Uist Resident Greylag Goose Adaptive Management Pilot. Licences will initially be provided to permit sale for a trial period from February 2014 to March 2015.
Paul Wheelhouse, Minister for Environment and Climate Change, said: "I welcome the progress made by crofters and farmers who have been working with
SNH
to manage populations of resident Greylag Geese to prevent serious agricultural damage. These carefully controlled licences will allow the local sale of fresh wild goose meat, and so prevent the waste of a resource and provide an economic opportunity for the local community."
Johanne Ferguson, SNH's operations manager for the Outer Hebrides and secretary to the local goose group confirmed: "This is an exciting development. It is something the local goose group and wider community have been working towards for a very long time. Sales of geese shot under the pilot should provide the means to make goose management self-funding in future. Several local businesses are interested in developing goose products while others are looking forward to using and promoting delicious local wild goose on their menus.
"We must demonstrate that adequate controls are in place, both for food safety and species' protection. The local group organised a special course on meat hygiene for marksmen this month to enable them to receive a licence. Although the goose population is still very high, bag limits are reviewed annually through the local group and agreed with national advisors to ensure geese are managed sustainably."
The new scheme builds on experience from
the Orkney Pilot
, where goose meat was offered for sale in August last year. The sale of goose carcasses is only being trialled in Uist and in Orkney only, and anyone selling them elsewhere in Britain will be committing an offence. Specific licences will be issued to named hunters and retail premises for them to the meat. A general licence issued by SNH will allow restaurants, cafés hotels and other caterers to sell wild goose meat in prepared meals on the Uists. While SNH is responsible for issuing the licences, the council will still have the responsibility of enforcing food hygiene regulations.
There is an irony that will be appreciated by many birders, that Britain's small native breeding Greylag Geese population has now got out of control on the Outer Hebrides, and is being shot – albeit legally – when there are hundreds of thousands of feral birds over much of the country, which are generally left untouched. Perhaps these and the even more numerous Canada Geese are an untapped resource that could be exploited, in favour of the migrant wildfowl hunted every winter by shooters?