RSPCA urges anglers to recycle fishing litter after gull injuries
d2e02ae7-edeb-4702-96c9-d15a82557ce1
The RSPCA are urging anglers to be more careful when it comes to left over litter after they rescued and rehabilitated two European Herring Gulls on the Isle of Wight.
Officers Kane Goodyear and Shirley Bradley both found themselves helping distressed birds on different parts of the island within days of each other. The RSPCA says it now has a dedicated angling litter recycling point at its Godshill Animal Centre.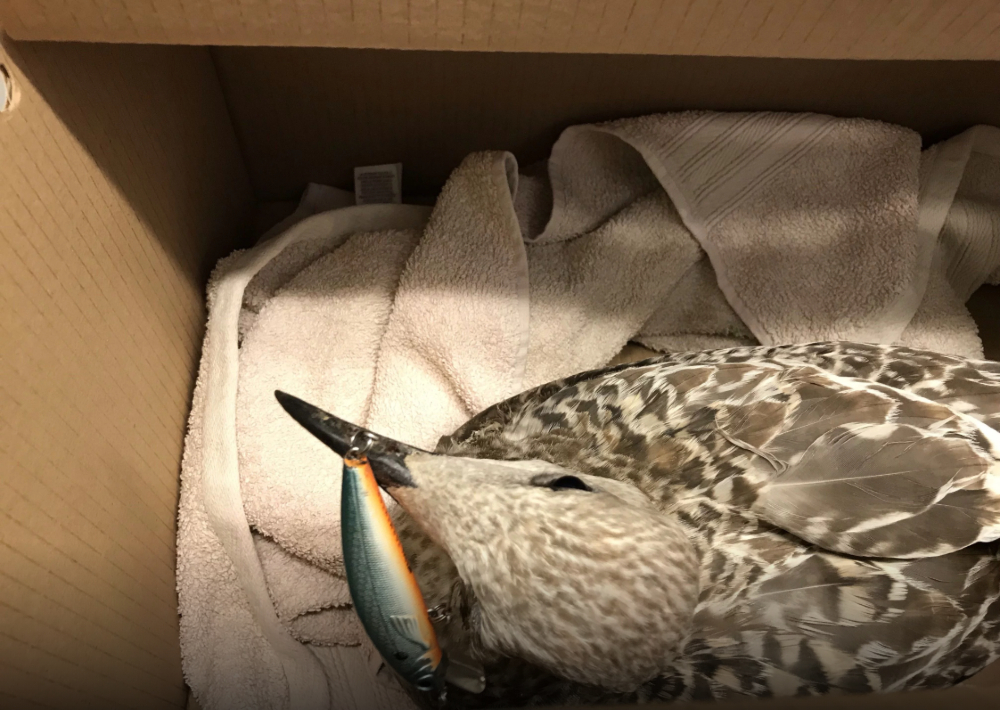 This Herring Gull was found with a fishing hook embedded in the eye and beak (RSPCA).
Officer Bradley was called to help a young European Herring Gull that had been found in Parkhurst with a fishing hook embedded in the eye and beak. It was carefully removed by a vet while the bird was under anaesthetic.
In a separate incident, officer Goodyear was joined by a team from the fire and rescue service in helping a European Herring Gull that had become trapped in netting on top of a chimney breast, in between chimney pots in Godshill.
Content continues after advertisements
Goodyear said: "The gull had a fishing barb from a fishing lure through his foot, which was attached to the netting. There is no way he could have freed himself and would have sadly died without our help.
"Thankfully, the vet was able to remove the barb and the gull recovered at RSPCA Godshill Animal Centre. Both the gulls were successfully released back into the wild after receiving the care and treatment they needed."
Last year, the RSPCA received some 3,274 calls about animals affected by angling litter across its network. Incidents reported in 2018 included birds swallowing fishing hooks and entanglements in fishing line, often leading to death. Water birds were the most affected with the species, with the highest numbers of calls involving swans (1,684), geese (461) and ducks (283).
Holly Barber, anti-litter campaign manager for the RSPCA, said: "We're hoping that our new recycling facilities will help reduce the terrible toll that is taken on animals by carelessly discarded fishing tackle. Our records show that water birds are particularly vulnerable to this hazardous material.
"The majority of anglers do dispose of their litter properly and it is frustrating that those who don't may have not realised how dangerous it is to animals. Discarded line is a terrible hazard for wildlife, especially as it can be almost invisible.
"We received well over 3,000 reports last year about animals – mostly swans, geese and ducks – affected by hooks and lines. We hope anglers and others who may have found discarded fishing paraphernalia will help to reduce the number of these incidents by using the new recycling points at our Wildlife Centres and at other points around the UK."