RSPCA says booby getting better
49780e6b-a9cb-417a-8c8b-4bee816b7017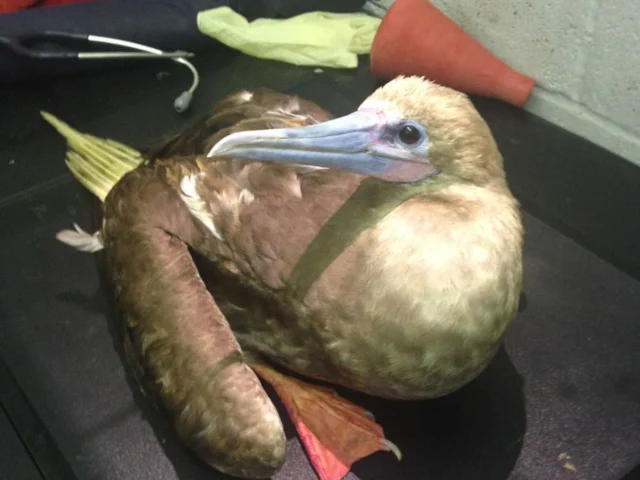 The
Red-footed Booby found on a beach in Hastings, East Sussex
, has been responding well to treatment in intensive care says the RSPCA and is feeding up on fish.
The bird is normally a resident of the tropical Caribbean but was rescued after he was found on a beach at St Leonards-on-Sea by a local woman and rescued by East Sussex Wildlife Rescue Ambulance Service on 4 September. It is the first time that Red-footed Booby bird has ever been recorded in Britain, though.
The bird, an adult male brown morph, was very underweight and dehydrated when first caught, and has been in intensive care at the RSPCA's Mallydams Wood wildlife centre in East Sussex ever since.
Wildlife rehabilitation team manager Richard Thompson said: "The booby is doing well considering just how weak and dehydrated it was when it came in. It is improving slowly but surely.
"We have been keeping a close eye on it and keeping it warm with heat lamps. At the moment we are feeding him with Zoolyte and piscivore solutions (which are formulated for fish-eating animals) to try to stabilise him. He has just started eating Sprats, which he is being hand fed at the moment, and has put on a little bit of weight, which is fantastic news.
"He is beginning to preen his feathers and flap his wings vigorously to exercise, too, which is a good sign, but he is not out of the woods yet. We are just awaiting some blood test results to tell us more about his condition. As he gains strength we are hoping he will feed himself and become more independent.
"It is incredible to think a bird from around 4,000 miles away has ended up here - and we have no idea how he got here. We will probably never know."
You can read a full finder's account of the Red-footed Booby in the new October issue of
Birdwatch
, on sale next Thursday (22 September).