RSPCA rescues Goosander from chimney
1460b656-52b2-4a83-92a2-dae9c1e977b2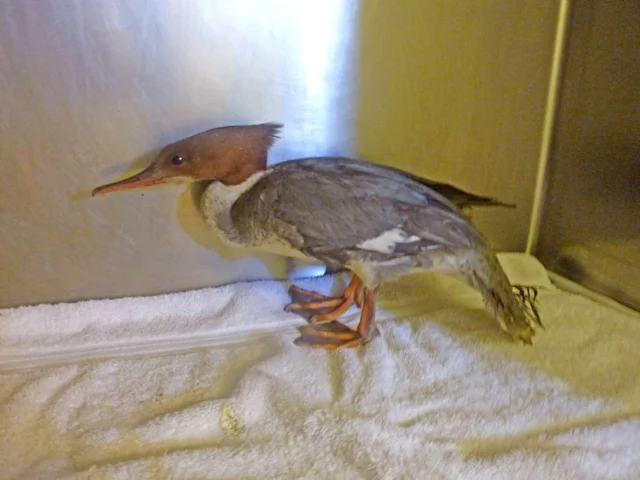 A Goosander that was stuck in a chimney in Manchester is being nursed back to health by the RSPCA.
Staff at RSPCA Stapeley Grange have been caring for the female diving duck after she was admitted underweight and with broken feathers.
The 'sawbill' has proved a popular in-patient, and is the seventh Goosander to be admitted to the centre in more than 20 years.
Manager at RSPCA Stapeley Grange Lee Stewart said: "Goosanders are not a common sight in the streets of Manchester, so we are not sure how she managed to get stuck down a chimney. These birds are usually seen near freshwater sources like reservoirs and streams.
"The poor bird came in to us on 15 May. She was underweight and with some broken feathers, but [was] otherwise in good health. She is making a good recovery and is now on an outdoor pool. We are hoping to release her as soon as she is well and strong enough."
Goosander is a scarce breeder in the Greater Manchester area, and is usually found nesting in trees on wooded rivers and streams in the north and west of Britain.
Content continues after advertisements