RSPB's EU-funded decoy project to help rare seabirds in Suffolk
9442b69e-0c0b-4f9b-b55a-c87ddf966dd8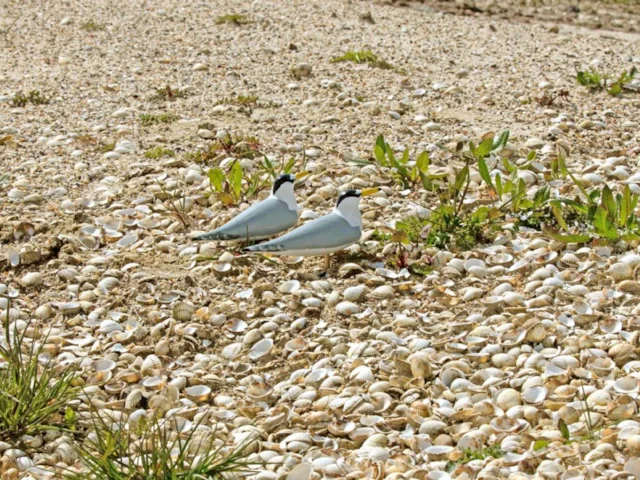 Hand-painted model decoys are being used to help save nesting Little Terns on the Suffolk coast.
The Suffolk coastline is one of a few British strongholds for
breeding Little Terns
, Britain's second rarest tern with just 1,900 breeding pairs in the country each year. The tiny chattering birds travel from West Africa each year to nest on the beaches of Britain, but their numbers have been declining as they struggle to find safe beaches, free from predators and human disturbance.
The model birds were successfully tested on Suffolk beaches in 2015, and are being used this year at Kessingland and Shingle Street to attract the vulnerable species to protected areas there.
Thanks to funding from EU LIFE+, the Little Tern recovery project has been able put electric fencing in and provide dedicated wardens to create safe havens for the species on Suffolk beaches at sites including Kessingland, Benacre and Shingle Street. In 2016, the RSPB will also be installing special 'chick shelters' made of old piping inside the fenced areas, which will protect Little Tern chicks from aerial predators and bad weather as they begin moving around.
Emily Irving-Witt, EU LIFE+ Little Tern Warden for Suffolk said: "After trialling the fake birds last year, Little Terns had their most successful breeding season in Suffolk. Benacre became the UK's largest Little Tern colony in the UK, and saw a fantastic 180 fledglings starting their long migration back to West Africa at the end of last August.
"The decoy birds are made of plaster of Paris and painted to look like adult Little Terns. It might seem like a strange thing to do, but there is evidence to show that the model birds will attract the terns to the beaches that we have specially prepared to help them nest.
"We place pairs of the model birds in exactly the same position than an adult couple would adopt to breed – with the male bird at a 25-degree angle to the female, both facing into the wind. Making our models look as lifelike as possible will increase the chances of attracting our real birds to nest.
"We are particularly keen to see if the decoys we have placed at Shingle Street will attract the birds back to a colony that has been deserted for the past four years."
The British coastline changes every year and there are a wide variety of beaches in Suffolk which could become a suitable place for Little Terns to nest. The RSPB is keen to ensure that it is providing protection to the birds wherever they choose to breed this year, and is asking people to report Little Tern sightings to
suffolklittleterns@rspb.org.uk
as the birds continue to hatch and raise their chicks over the coming weeks.
Emily added: "The beaches that Little Terns use are the very same beaches that local residents and holidaymakers love too. We are hoping that the birds choose to nest at the sites [in which] we have placed our decoy birds, which will provide ... safety from predators and space from other beach users to raise their young in peace. We'll also have a fantastic team of wardens and volunteers at these locations, ready chat to visitors about what we can all do to look after these special birds as they share our coast this summer."
Content continues after advertisements