RSPB use geolocators to seek cause of moorland bird decline
ecb74063-477c-4107-b6b8-e02cefaf4f73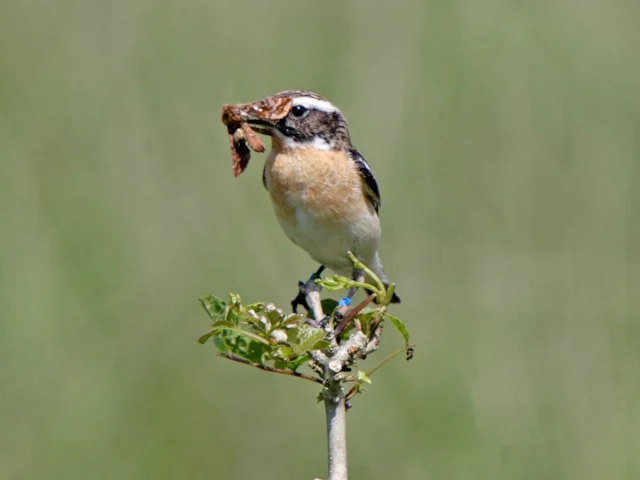 Whinchats at Geltsdale RSPB, Cumbria, are being fitted with tiny tracking devices in an attempt to discover why the species is in serious decline.
Whinchats are small colourful birds that migrate from Africa every summer to breed in the uplands of Britain. However, since the mid-1990s their numbers have halved, making them a species of serious conservation concern.
Over the summer, RSPB Conservation Scientist Malcolm Burgess fitted 19 geolocators to Whinchats breeding at Geltsdale RSPB, aided by three volunteers who found the birds' territories. It is hoped that the devices will reveal where the birds spend the winter, what migratory route they take and where they stop off en route. By building up a picture of Whinchat behaviour and movements, and detecting the species' wintering areas, it will hopefully help shed light on why the population is plummeting.
A Whinchat freshly fitted with its geolocator device, at Geltsdale this June. Photo: RSPB
Burgess has previously put hundreds of geolocators on Whinchats in Nigeria, as well as fitting them to many other species. He said: "It's a tricky business, as the birds need to be caught and the geolocator fitted without causing them harm. This is achieved by catching them in a special net and then attaching the tiny 0.36-g geolocator with a flexible harness which enables the bird to move completely normally.
"As all of the information is stored on the device, a bigger challenge will come next year when the birds return to Geltsdale and need to be re-caught to remove the devices. Since the geolocators are virtually invisible, the birds have also been fitted with colour rings to identify them. Out of the 19 devices fitted, we expect to retrieve around 40 per cent – the natural adult survival rate – as many of the birds won't return. However, these will still provide some totally new and revealing information."
Steve Westerberg, Site Manager at Geltsdale, said: "Whinchats are very colourful, beautiful birds that inhabit special wild places and are emblematic of wild landscapes. It's always a joy to see them breeding at Geltdale. Unfortunately, there are far fewer of them in the North Pennines than there used to be. Hopefully, this research will provide us with some clues as to why their numbers have declined over the past two decades."