RSPB reserves boost Lapwings
f194852d-c073-4918-9baa-d756da52a7a9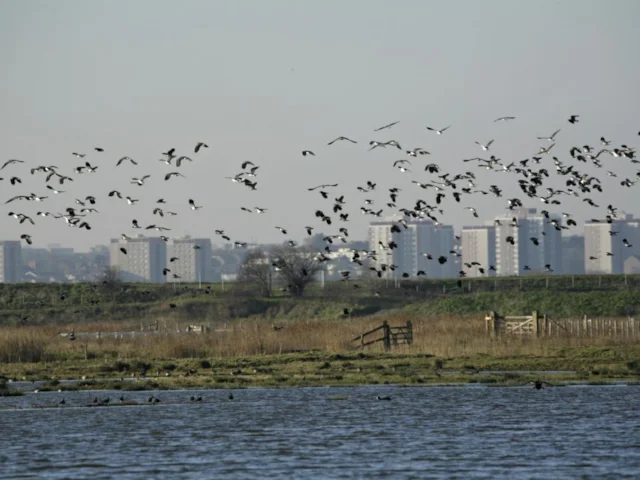 The declining Lapwing has had a successful breeding season this year in grassland habitats managed by the RSPB.
The RSPB manages a number of sites in lowland England where the species nests, such as Otmoor in Oxfordshire and Rainham Marshes on the outskirts of London. The wildlife charity has been working on Great Bells Farm on the Isle of Sheppey in Kent, converting 160 ha of poor-quality farmland into a freshwater nature reserve. In 2014, many of the RSPB's sites were able to announce Lapwing breeding successes thanks to land management based on knowledge built up over decades across the charity's nature reserves in lowland England.
Lapwing has found the RSPB's lowland grassland reserves to be a boon to its previously declining numbers. Photo: Andy Hay (www.rspb-images.com).
Traditionally known as 'peewits' after their distinctive call, Lapwing has 'red status' in Britain, which means that the speed of their decline is causing much concern. The species has been disappearing from lowland England since the middle of the 19th century, but the most recent falls in numbers are due to changes in agricultural land use. From the mid 1980s, they began vanishing from south-west England and Wales. This year, the numbers of Lapwings breeding on RSPB lowland wet grassland reserves grew, and the higher number of chicks that fledged has given conservationists hope that the birds face a brighter future.
Ground works at Great Bells Farm were completed in 2013 and hundreds of birds immediately arrived for the winter. This year's breeding season at the site included 25 pairs of Lapwing which raised 26 chicks, the number conservationists had hoped for.
Martin Harper, RSPB Director of Conservation, said: "In my lifetime, Lapwing has gone from a widespread countryside bird to one increasingly confined to nature reserves. It's challenging to manage land for the species, so seeing an increase this year is especially welcome. It gives us hope that this engaging bird may in time be able to turn a corner as a nesting species in lowland England, especially if land managers can be encouraged to get the most from wildlife-friendly farming payments."
Content continues after advertisements