RSPB heaths have record breaking year
fb5ba5c3-0a12-40ff-8058-6a8b3ec0c685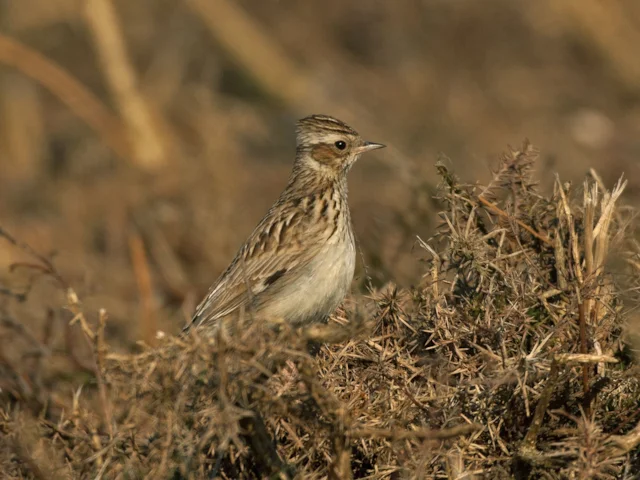 Three nationally important species of bird have reached record breaking numbers on nature reserves across the country, thanks to the RSPB's heathland restoration work.
According to the charity's latest reserves survey, Dartford Warbler and Woodlark have been recorded in unprecedented numbers this summer, with reserves hosting population increases of 34 per cent and 12 per cent respectively. In addition, numbers of European Nightjar reached an all time high of 158 'churring' males this year on RSPB reserves.
All three species are dependent on heathland, a localised and threatened habitat which is almost entirely dependent on conservation action for its future. Britain has about 20 per cent of the world's lowland heathland, nut this is just a fraction of what once existed as its total area in the UK has shrunk by 80 per cent since 1800.
The localised and rare Smooth Snake also had success at one RSPB site in Devon this year. A juvenile and two adult snakes were found at the site in June, the first recorded proof of breeding since the species was reintroduced to the area in 2009. Prior to this, Smooth Snake had not been recorded in Devon since the 1950s, due to loss of its natural habitat. The excellent condition of restored heathland at the site meant it was the perfect habitat for the reptile to thrive and the discovery marks a major milestone for the project.
Jo Gilbert, RSPB's Head of Reserves Ecology, said: "Our heathland is of great importance to a wide variety of special wildlife and home to some of the UK's most weird and wonderful creatures including Sand Lizards, tiger beetles, Silver-studded Blue butterflies and Natterjack Toads.
"Sadly, much of our heathland has been lost to forestry, housing development and agriculture, and some of the biggest threats now include air pollution and the spread of trees and scrub, which smother the heathland plants and put pressure on the specialised wildlife that relies on this fragile habitat.
"It's excellent news that our habitat restoration work, which often involves the removal of non-native trees, continues to be successful ... The species that depend on this habitat have nowhere else to live if heathland is lost – therefore the work of conservationists is vital if our rare and fascinating heathland wildlife is to survive."
Great results were seen at the Arne RSPB, Dorset – home to the BBC's Autumnwatch this week – with numbers of European Nightjar and Dartford Warbler both increasing. The latter increased by 30 per cent, with a fantastic 70 pairs recorded breeding on the reserve this year, while conditions for nightjar continue to improve, pushing numbers of breeding pairs close to 42, the most ever recorded on the site.
Highlights also include Dartford Warblers breeding for the first time at Farnham, Surrey (three pairs), and Hazeley Heath, Hampshire (six pairs). For the second year running, there was a record number of breeding Woodlark on a range of reserves, including Minsmere, Suffolk, Broadwater Warren, Kent, and Hazeley Heath.
The RSPB manages and protects over 2,500 hectares of lowland heathland. To find an RSPB reserve near you visit
www.rspb.org.uk/reserves
.
Content continues after advertisements