Reward offered as Swedish Osprey is shot
76f53ac9-5157-4003-ae83-b1ce276c399a
The RSPB yesterday [16th November 2010] offered a £1,000 reward for information leading to conviction in connection with the shooting of an Osprey. The juvenile bird, which had been ringed in Sweden in June, was found near Caister in North Lincolnshire on 2nd October.
Veterinary analysis showed that it had been shot twice with a shotgun. This is the third confirmed shooting of an Osprey in the UK this autumn: the first was discovered in Sussex in September when a similar reward was offered, which was followed by a bird seen over Spurn Point (East Yorkshire) in October which had half of its wing missing.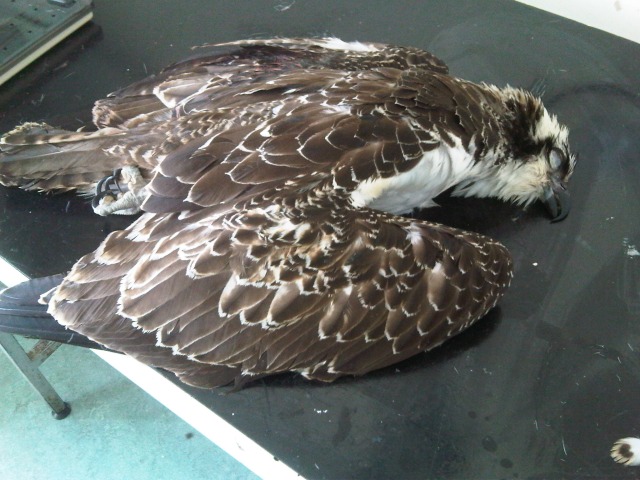 Osprey shot in Sussex in September (photo: Seerscroft Veterinary Surgery).
Content continues after advertisements
The seriousness of this most recent shooting has prompted the RSPB to offer the £1,000 reward, asking members of the public with information to come forward. Mark Thomas, RSPB investigations officer, said: "The shooting and subsequent death of this bird is sickening. Not only is it an amazing species but the fact it was hatched in Sweden and was passing through the UK on migration makes the killing a national disgrace."
The bird was one of three chicks hatched from a nest in Spjutholmen, Sweden, in June 2010 and during its short life had crossed the North Sea and was well on course to undertake its first migration to Africa. Wildlife Crime Officer for Lincolnshire Police, Nigel Lound, said: "We know this bird was ringed in Sweden and was only 86 days old. These birds are extremely rare and it is terrible that one has been shot in Lincolnshire. We need anyone who has any information to get in touch with us as soon as possible."
Anyone with information should contact Lincolnshire Police on 01522 558684 or RSPB Investigations on 01767 680551.