Return migration watch in Africa
dddb1db4-b442-434a-b7d7-cec77efe3208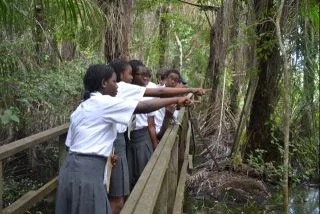 The African leg of
Spring Alive
has just begun as European summer migrants embark on their return to the Mother Continent.
Spring Alive
is an international project organised by BirdLife International, designed to promote children's interest in nature and conservation through tracking the arrival of spring bird migrants. Contributions from participants in over 40 countries in Europe and Africa, specifically children and families, are encouraged, and they are expected to record the arrival of five migratory bird species each year: White Stork, Swallow, Common Swift, Common Cuckoo and European Bee-eater.
Among the millions of birds migrating to Africa for autumn and winter, one can observe the five species impatiently awaited by participants of Spring Alive, a long-term educational campaign of BirdLife International. Its African edition, with the record-breaking number of 11 participating countries, has just begun.
Just like their European counterparts, the
African participants of Spring Alive
will observe the five key species, which are gradually leaving their European and Asian breeding areas right now. Some of the individual birds will have covered several thousand miles and encountered many dangers before reaching their wintering grounds in Africa. This year, the residents of Botswana, Ghana, Malawi, Nigeria, Republic of South Africa, Sierra Leone, Uganda and Zimbabwe will be joined for the first time by Kenya, Zambia and Rwanda.
"The Spring Alive initiative provides a unique and interesting educational platform for African children, youths and birders to learn more about the value and beauty of nature through the five flagship species. The project's focus on outdoor activities in particular makes it very attractive to African children who have a strong feeling for nature," explained Callistus Akachabwon Agbaam of BirdLife International African Division.
The campaign can be monnitored online at the
www.springalive.net
website, where participants can also follow news on bird-related issues and manage invitations to Spring Alive events, watch the dynamics of bird flyways, and play interactive bird games.
During the season, young participants are encouraged not only to register their first observations of the five species but also to consider how people can make contributions to assist birds to live productive and longer lives.
For further information please contact: Thandiwe Chikomo, Spring Alive Focal Point for Africa, BirdLife International: Africa Division Thandiwe.chikomo@birdlife.org; Callistus Agbaam, Project Officer – Wildlife Clubs of Africa, Callistus.agbaam@birdlife.org; or
www.springalive.net
.
Content continues after advertisements