Rescued Wildcat kitten dies
fbcd4cf5-9110-4c33-b738-73986f811af1
A Wildcat kitten found freezing to death north of Grantown, Highland, has passed away, despite being rescued and taken into care.
Pete Macnab, who found the kitten, thought it was a domestic cat when he posted photos on social media, hoping the owner would come forward. Some users quickly pointed out that the animal was most likely a Wildcat.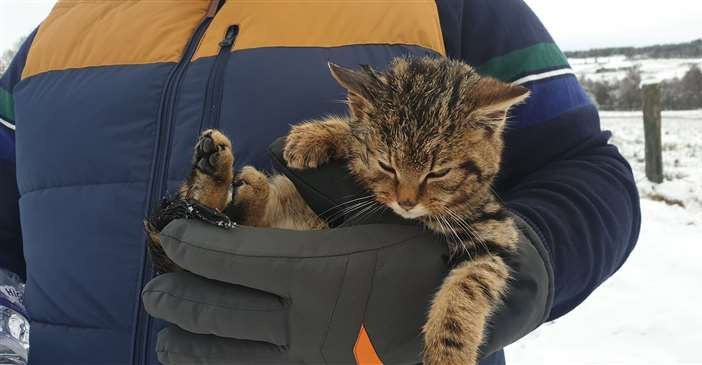 The rescued Wildcat kitten (Pete Mcnab / Twitter).
"When first found it was surrounded by a herd of noisy sheep," said Mr Macnab. Following an examination by a vet, the kitten was said to be a severe state of distress, was sodden through and unable to stand. Sadly, it later passed away. DNA tests will be conducted to determine if the kitten was a pure – and thus extremely rare – Wildcat, or a hybrid.
It is estimated that there may be as few as 100 Wildcats left in Scotland. A £3.2 million project to increase their numbers is currently taking shape in Strathspey, a stronghold for the remaining population. Work is currently underway at the Saving Wildcat Conservation Breeding Centre at the Highland Wildlife Park by Kincraig, where a three-hectare site will house 12 breeding units and eight pre-release enclosures. It is hoped that Wildcats bred at the site could be released in Strathspey as early as 2022.