Rehabilitated bittern relocates to Suffolk
dbcf2dd9-cb71-4575-82c8-f5c0d85464d1
RSPB and British Trust for Ornithology (BTO) staff are celebrating following news that a Eurasian Bittern taken into care and released in Hertfordshire has been sighted in Suffolk.
The female bird was found with minor injuries by a roadside pond near Letchworth, Herts, in mid-September 2016. It was taken into care near Stevenage by staff at Wildlife Welfare and then, after a couple of days, moved to nearby Rye Meads RSPB.
Once the bird was in good enough health, permission was sought from the BTO to fit it with a metal ring sporting a unique number, as very few bitterns are ringed in Britain each year. The bird was ringed by the Rye Meads Ringing Group and then released on the reserve. It was then re-sighted at Rye Meads RSPB five months later on 22 February 2017.
On 7 May 2018, the BTO's Dawn Balmer photographed a bittern with a ring on its left leg from Mere Hide at Lakenheath Fen RSPB, Suffolk, some 50 miles from Rye Meads. The bird was then photographed by David Gowing, a regular visitor to the reserve, on 20 May. Interestingly, a bittern with a ring on its left leg was photographed at Lakenheath Fen RSPB in June 2017 and was also very likely this individual.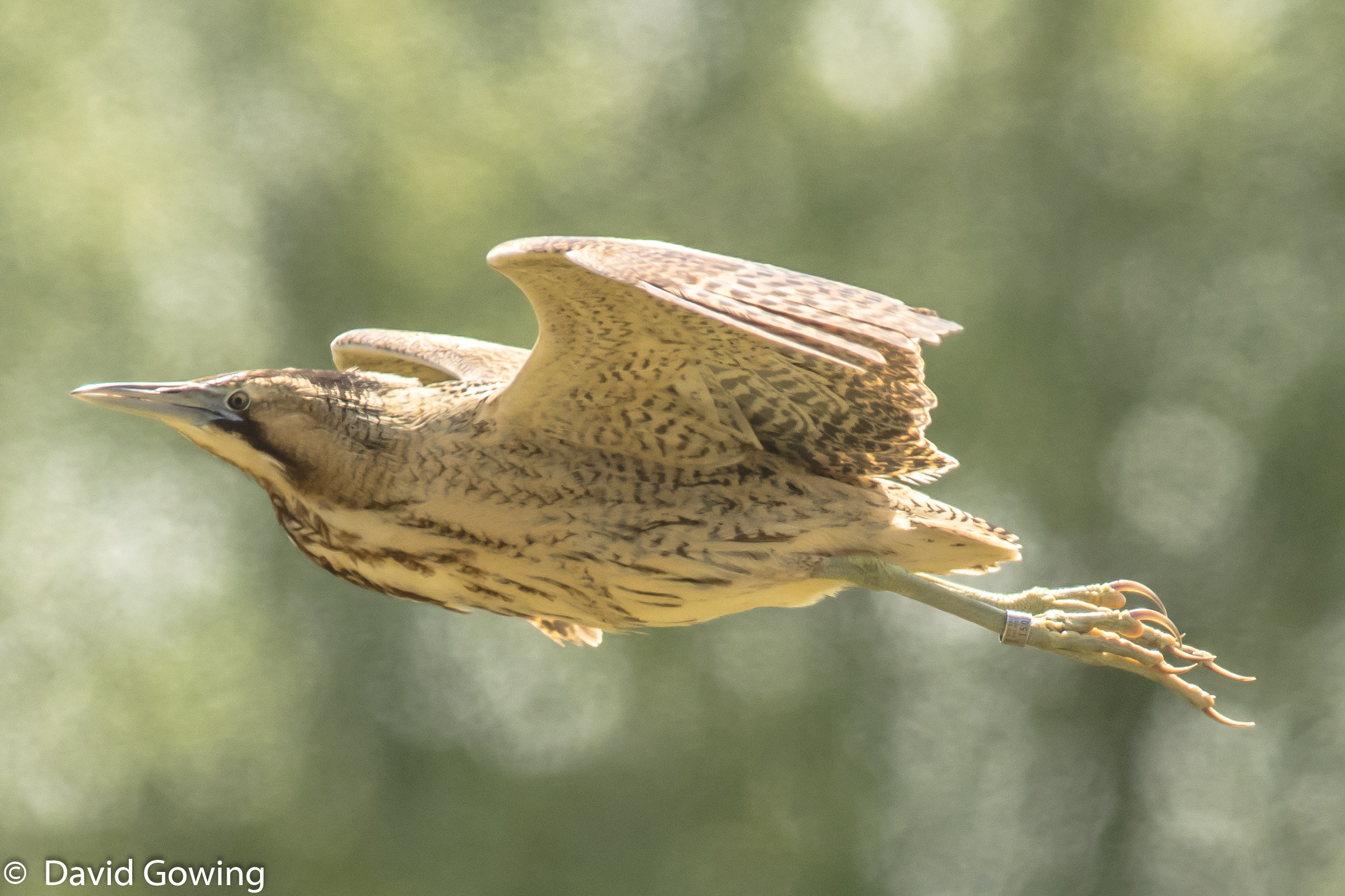 David Gowing's photo of the Eurasian Bittern, taken at Lakenheath Fen, Suffolk, in May, identified it as the bird rescued in Hertfordshire in 2016.
RSPB and BTO staff received an image of the bittern on 31 May and part of the unique combination on the ring could be read for the first time. Staff in the Ringing Unit at the BTO were able to confirm that the bird was the same individual as that at Rye Meads back in 2016-17.
David White, Visitor Experience Officer at Lakenheath Fen RSPB, commented: "Bitterns are not known for flying very far during their lives so it is incredible to think that this bird has come all of this way. If this bird hadn't had been ringed by the Rye Meads Ringing Group, we would have never known where it had come from and how far it had travelled to get here.
Content continues after advertisements
"What is even more incredible is that it was found by the side of a road! What could have been a sad ending for a scarce and beautiful bird has now been turned into a wonderful story, as this bittern is now happily skulking around in the reedbeds at Lakenheath Fen RSPB. This year, we know that there are at least 10 booming males on the reserve so, hopefully, this bird will breed with one of those males."
Eurasian Bittern is a scarce and secretive member of the heron family that only nests in reedbeds. In 2017, there were 166 'booming' males in Britain. This number has increased from a low of just 11 in 1997.
Dawn Balmer added: "It was exciting the see the bittern had a metal ring on, but sadly my photos weren't quite good enough to read the ring. David Gowing's excellent photo of the bittern in flight enabled us to read part of the ring and identify exactly where and when the bird had been ringed. Only a handful of bitterns are ringed each year (three in 2016), so this has provided valuable information on survival and movements".
Alan Harris, from the Rye Meads Ringing Group, said: "This is a wonderful example of the value of rehabilitating birds, and by ringing the bird we have been able to show this was a great success, and provide some unique information on the movement of bitterns."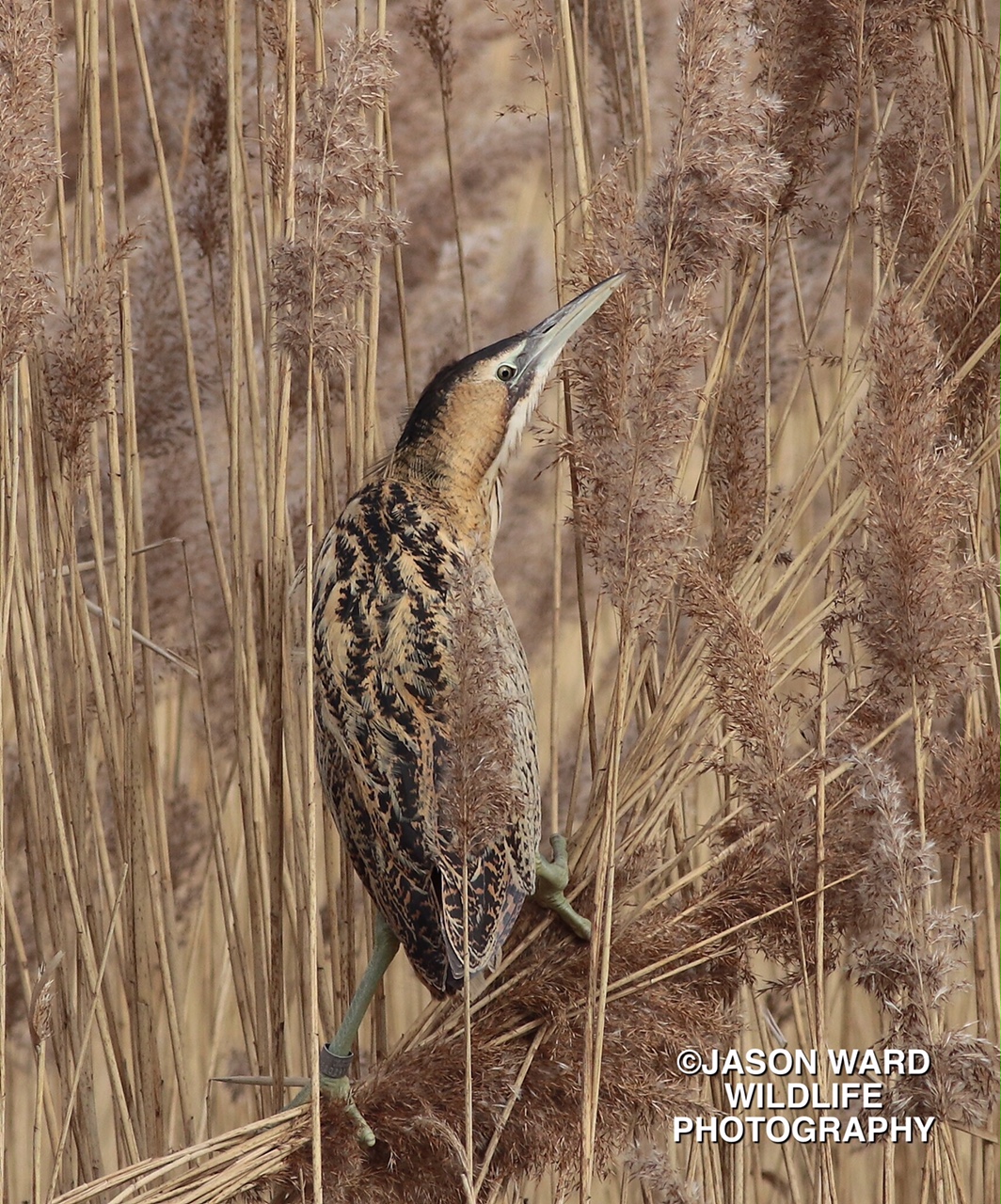 The same female Eurasian Bittern, showing the ring on its left leg, photographed at Rye Meads on 22 February 2017 (Jason Ward).
Lakenheath Fen RSPB is open at all times. The visitor centre and toilets are open daily from 9 am-5 pm. RSPB members visit for free. There is an entrance charge for non-members: adults £3, students £2, children £1.50 (first child free per family group) Please ring 01842 863400 or email lakenheath@rspb.org.uk for more information.
Rye Meads RSPB is open daily from 9 am-5 pm (or dusk if earlier). RSPB members visit for free. There is a charge of £4 per vehicle for non-members. Please ring 01992 708383 or email rye.meads@rspb.org.uk for more information.