Red Kites breed for first time in Moray and Nairn
3ad05de7-96c5-4096-8d05-92123e573b7e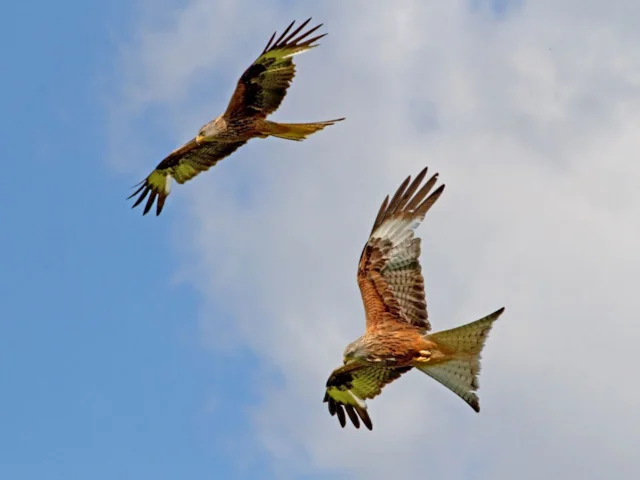 A pair of Red Kites has set up home near Cawdor Castle, Moray and Nairn, the first to attempt breeding in the county since the early 19th century.
The birds have built a nest in woodland immediately adjacent to the castle, and are often seen from the castle flying to and from their nest.
The Dowager Countess of Cawdor, Lady Cawdor, owner of the land around the castle, expressed her delight and said: "As the guardian of this historic woodland, I am thrilled at the return of the
Red Kites
– these birds are in a sense part of the history of this area. At Cawdor we do our best to promote and nurture the environment – our gardens have been organic since 1979 and we are keen to promote nature conservation wherever possible."
RSPB conservation officer Stewart Blair confirmed the historic nature of the breeding attempt: "Records indicate that kites have not bred in Moray and Nairn since the early 1800s. Cawdor Castle has been the scene of many historic events over the centuries, so it seems appropriate that the grounds of the castle have been chosen by the species. Red Kites would, undoubtedly, have been a familiar sight to William the third Thane of Cawdor, who built the castle in around 1370. It's very rewarding to think that part of nature's historic fabric is slowly being restored."
He then added: "After
the awful events in the Black Isle
when no fewer that 15 kites were found dead, it is great to have a bit of good news. Let's hope the kites now go from strength to strength in Moray and Nairn and bring delight to even more people."
Cawdor Castle is open to visitors every day this year, from 1 May until 5 October.
Content continues after advertisements