Record year for breeding Black-winged Stilts in Britain
6f1eafca-d84c-4d49-93a7-4c873839c7a0
An unprecedented 13 Black-winged Stilt chicks have fledged in Britain from sites in Kent, Cambridgeshire and Norfolk, including nine on two RSPB reserves.
This breeding success comes after years of conservation work to create the ideal marshy habitat for stilts. The species has become a more frequent sight in recent years, as it has moved from its traditional nesting grounds in southern Europe in search of wetland habitat to raise young. However, fledglings are still extremely rare in Britain, with just a handful of successful breeding attempts in the past decade.
Cliffe Pools RSPB in north Kent proved to be the most productive site for Black-winged Stilts this summer, as two pairs fledged an impressive seven chicks. A further two young fledged from Ouse Washes RSPB, Cambridgeshire, with a final four coming from a nest at Potter Heigham Marshes, a Natural England reserve in Norfolk, making this the most successful breeding season for stilts ever in the country.
Will Tofts, Warden at Cliffe Pools RSPB, said: "After three disappointing years of stilts failing to fledge at the reserve, it's incredible to have seven come along at once – a great reward for all the hard work from the team across the site. We've worked to create the perfect habitat and it's been brilliant to see the stilts take to it over the past few months. To follow them from nesting all the way to fledging is an amazing experience, and we now hope to see Black-winged Stilts flourishing at Cliffe for years to come."
In the Mediterranean, stilts prefer to nest in shallow lagoons and salt pans, but in Britain it is usual for them to visit a number of potential nesting sites before settling down to make their home.
The success on RSPB reserves follows several years of hard work by staff and volunteers to protect them from threats. At RSPB Cliffe Pools, this involved cutting the vegetation, and having it grazed. At the Ouse Washes, staff had to react quickly to save the stilt nests from rapidly rising water levels threatening to destroy their nests.
RSPB Principal Ecologist Malcolm Ausden said: "With the changing climate, we're anticipating that more southern European bird species such as Black-winged Stilt may arrive in the UK to nest. We're planning for their arrival by providing the ideal habitat and conditions for them on our nature reserves – especially wetlands – to ensure they are able to nest and raise their chicks. Hopefully, this year marks a change in fortunes for Black-winged Stilts in the UK, with more fledglings this year than from all previous nesting attempts between 1983 and 2016 – in part down to the habitat on RSPB reserves."
Last week it was revealed that Cattle Egrets had successfully bred for only the second year in Britain at Ham Wall RSPB, Somerset, while earlier in the summer a pair of Spoonbills nested at Fairburn Ings RSPB, a first for Yorkshire.
Read more about the colonisation of Black-winged Stilt in Britain in August's Birdwatch magazine, in the shops from Thursday 27 July.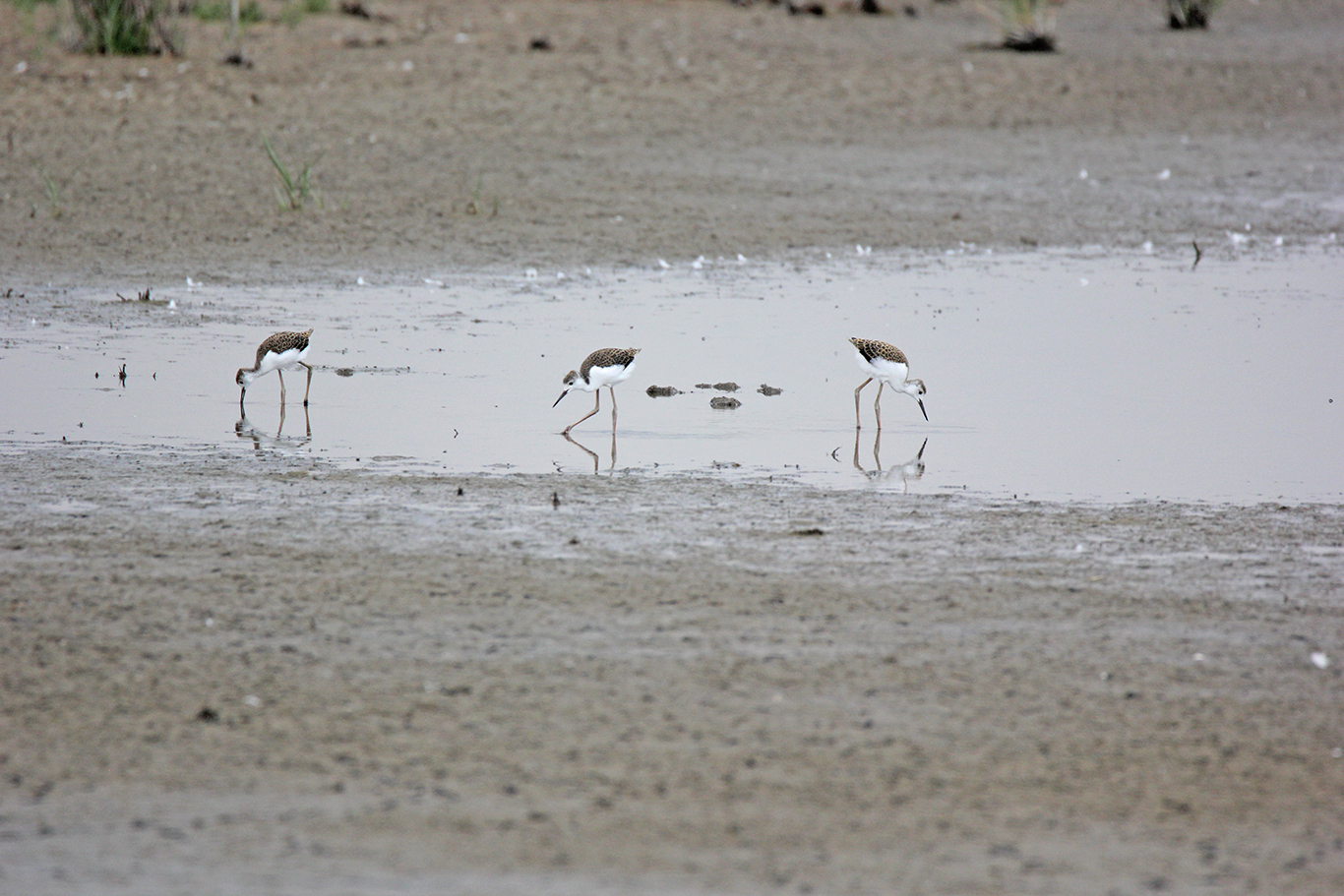 Above: Three of the Black-winged Stilt chicks on specially created habitat at Cliffe Pools RSPB. Photo: Rob Budgen.